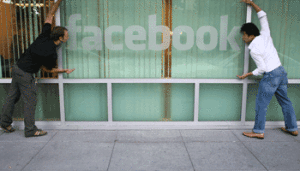 Facebook is a great marketing tool for your business. With the new fan page redesign, your business has been handed a gift – a powerful marketing tool. I've outlined 12 ways to use Facebook to promote your business or organization.
1. Make your brand known.
Facebook is a great place to spread the word to potential customers and clients.
2. Get "buy-in" by gathering fans.
Having people become fans of your page shows their higher level of interest in what you have to offer.
3. Get feedback.
Customers and clients can post comments and suggestions.
4. Collect data on your customers.
Facebook fan pages have built in stays that can help you see the type of people who are visiting your page.
5. You gain permission to market to people.
Fans of your business page are giving you permission to continue a relationship with them.
6. Broadcast events.
Facebook allows you to create events on your page and then invite people to attend. When the RSVP it shows up in their timeline for their friends to see.
7. Advertise directly.
You can purchase ads through Facebook and target specific demographics, geographic locations and age groups.
8. Host your own show inside Facebook.
Publish your own videos inside the Facebook video player.
9. Publish a blog inside Facebook.
Update short posts directly in the status updates. Plus you can use an RSS application to import your current blog.
10. Create an application and distribute.
This will take either know-how or money. But an application can spread virally if it is made well.
11. Hold a contest on your fan page.
Start by offering discounts or actual product. Try to tie the contest into your fans sharing it with their friends.
12. Get your fans to tag photos.
Upload pictures of your fans and ask them to tag themselves and their friends.
Do you have a tip on how to use Facebook to market your business? Let us know. We'd love to feature it here on Folk Media.
Joel Mark Witt is a producer, speaker, and new media leader who writes about social media and its impact in the business world. He is also the Founding Director of Folk Media. Send him an email: joelmarkwitt (at) folkmedia.org or follow him on Twitter.
* Photo by Scott Beale / Laughing Squid
Tags: Facebook, Fan Pages, marketing, Social Media 101