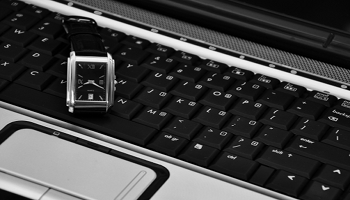 It's no secret that time is critical.  In fact, it's one part of life we never get back.  To date, no one has successfully created a time machine to take us back to the future.  When this second, minute, or hour is over, it's gone.
With that said, we know that your time with Facebook, Twitter, and other social networking sites is limited; therefore, you need to maximize your time when working with social media.  To help you do that, we've compiled a list of 20 social media activities you can do in five minutes or less.  Whether it is in between projects or at the end of the work day, these activities will help you maximize your time and remain productive.
1.  Change your Twitter background.
2.  Upload and change your profile picture.
3.  Check your Twitter or Facebook stream and comment on interesting posts.
4.  Give a #FollowFriday shout out to one, two, or five of your Twitter pals.
5.  Join a few LinkedIn Groups.
6.  Set up your Google Buzz account.
7.  Create a Facebook event for your next tweetup or office party.
8.  Find and watch an interesting YouTube clip. (Be sure to comment!)
9.  Change all of your social networking website passwords.
10.  Invite your team members to Google Wave.
11.  Update your profile information.
12.  Add your current project to your LinkedIn profile.
13.  Subscribe to a YouTube channel.
14.  Add a time-saving plugin to your blog.
15.  Check your Google Alerts.
16.  Clean up your Google Documents.
17.  Join a geolocation-based social networking site (foursquare, Gowalla, etc.).
18.  Browse useful images on Flickr.
19.  Reply to everyone who commented on your blog posts.
20.  Sort through your @replies and Direct Messages on Twitter.
As you can see, there are many social media activities that don't take long to accomplish.  If you did all of the tasks listed above back-to-back, you would have only used up an hour of your day.
Time is critical but it can be managed.  Find what works for you and fill in your downtime with productivity.

.


Eric Alpin is the Associate Editor of Folk Media and works for a telecommunications company in Baltimore, Md. He is a social media enthusiast, blogger, writer, and student with a passion for leadership and self-development strategies and techniques. Find out more about Eric on Twitter.



*Photo by Axxnn
Tags: activities, five minutes, five minutes or less, quick tasks, Social Media 101, tasks, time, time management