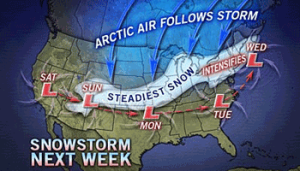 If you ever find yourself snowed in… let's say during one of the worst storms of the century (a.k.a. A Snowpacolypse) then here are 21 suggestions for some things you might do with regards to social media marketing… just saying.
These can also apply to you if you have a long weekend in Tahiti as well.
Change passwords on your accounts
Update your bio and photo on all sites
Write a blog post
Shoot and post a video
Write a quick eBook to give away on your site
Connect with people you've met in real life
Prune out old emails on your lists

Segment your Facebook friends into lists
Answer questions in LinkedIn Groups
Create a Facebook fan page for your business
Comment on another blog
List out your content creation strategy for the week/month/year
Research your next topic
Search for people to connect with on LinkedIn
Write a LinkedIn recommendation
Add widgets to your blog site
Track your blog/Twitter/Facebook stats
Host a video conference
Listen to a useful podcast
Offer to write a guest post on another blog
Reach out and connect with clients through social media
What would you add to this list? If… in theory … you were ever snowed in?

.
Joel Mark Witt is the Publisher of Folk Media and author of 21 Days To Twitter Leadership and How To Use Social Media To Find A Better Job. He is a producer, author, and speaker who consults with businesses and nonprofits on how to use social media in marketing and communications. Get more from Joel on Twitter.
.

Tags: baltimore social media, dc social media, Joel Mark Witt, philadelphia social media, Social Media 101