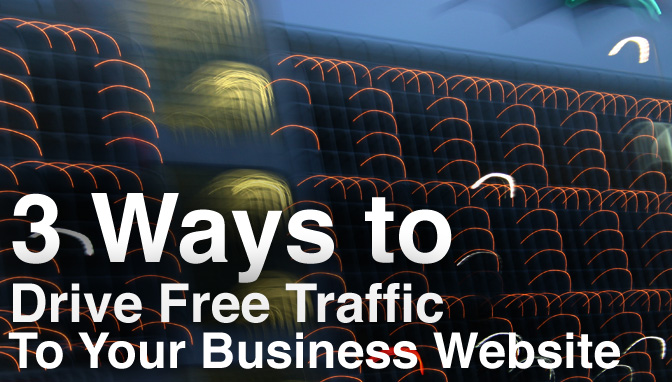 A great way to drive traffic to your website or blog is to create a few secondary places on the web to place your content. These can then point back to your main website or blog. Here are three services I recommend.

1) Squidoo
Squidoo let's you set up a free page online centered around a topic or person. Because of the specific nature of a Squidoo page – you can send traffic back to your blog or website. You can also import your blog RSS feed into onto the page. For more information on setting up a Squidoo page visit their getting started page.
2) Flickr
Flickr is an online photo site. I think they have the best service for uploading and sharing photos across the web. Open an account with them and begin uploading some photos.
Most people don't use Flickr to its full potential.  The service gives you the ability to write long descriptions under each photo. This is great because as people find your pictures they can then be directed to your website or blog. Plus an added feature is the ability to host your photographs on Flickr and cross post them to your blog or site.
3) YouTube
As you already know, YouTube is the worlds largest depository of online video. There are millions of people watching video on this site every day. YouTube is a free place to host your videos and exposes them to an audience of millions. With a simple camera you can begin recording short videos and posting them online. This can give your business a face and another place for customers and clients to find and connect with you.
Driving Traffic
The goal in this post is to show you how to gain extra traffic online for your business. Don't forget, there are other ways to use secondary sites to gain customer feedback or communicate with your volunteers or staff.
Let's put these three tools into use. First, begin by uploading content to both YouTube and Flickr. This could be some training videos, product information, product photos, etc. In the area provided under each photo or video be sure to write detailed and compelling description. In the tag section, place a few keywords that you think are both appropriate for your content and will be searched for by your prospects, customers, and clients.
Next, build a simple page about your particular industry or company in Squidoo. Link to various websites, resources, and blogs that your potential customers will find helpful. Be sure to link to your products and services as well.
Finally, link YouTube, Squidoo and Flickr together. Be sure to have outbound links from your website and blog to these secondary sites. But more importantly have incoming links from these secondary sites back to your blog and website.
We are continuing to release more tips and advice on how to drive traffic to your blog or website. Let us know what particular topics would help you grow your business in the comments section.
Subscribe to the Free Newsletter | Follow Us On Twitter | Request A Quote
Joel Mark Witt is a producer, speaker, and new media leader who writes about social media and its impact in the business world. He is also the Founding Director of Folk Media. Send him an email: joelmarkwitt (at) folkmedia.org or follow him on Twitter.