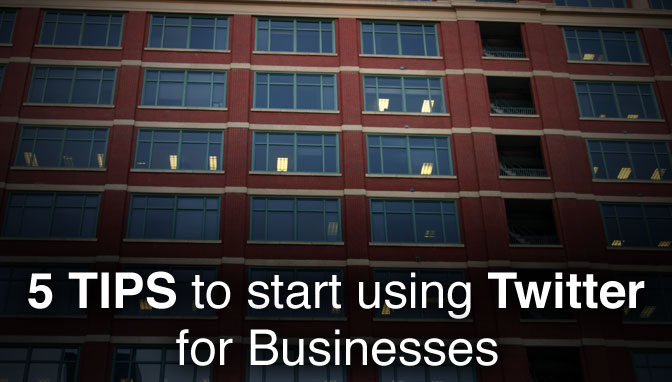 Twitter is a unique and useful tool. Many businesses and organizations are using it to reach out to their customers, prospects, vendors, and donors. Here are five simple things you can do today to get started.
You will need to know a few terms and ways people communicate on Twitter. Assuming that you are already listening – here's my five steps to getting your business on Twitter. Remember that I'm not talking about marketing, PR, or business strategy. I'm simply going over the basic mechanics of starting with Twitter.
Step 1 – Create an account
Go to http://www.twitter.com to sign up.
Step 2 – Start following interesting and valuable people
Might I suggest you start with @folkmedia as your first follow? Of course I'd love to have your follow us – but it's up to you. My suggestion is to first follow those who add value to your business or life. After you get the hang of things you'll want to reach out and begin following people strategically. But to start, pick about 25 people and begin. You can search for people you already know in the real world.
Step 3 – Join a conversation
Twitter can be used for blasting out one way messages to crowds of thousands. But the way to earn the trust and respect of thousands is to converse with people one at a time. When you see something interesting that someone posted, you can Twitter back to them with a simple @ symbol before their username. They will in turn will most likely Twitter back to you. These are how discussions work on Twitter.
Step 4 – Learn how to search
You'll notice that I mention searching a lot in this article. There is a great Ad Age article that basically asks the question – "is Twitter the next Google?"
We all know the power of search. And we all know how Google has been rocketed to the stratosphere from selling contextual ads against that search. But Google searches what has been. Twitter search allows you to search what is being talked about right now. Talk about a powerful tool for your business. You get to see the pain points for customers and clients. Reporters are using Twitter to gather facts about breaking news from people on the ground.
Step 5 – Be real. Be helpful. Be timely
Twitter can end up being a very warm and personal medium. It allows for conversation. Use this to your advantage and engage your followers by posing questions, linking to helpful articles, and alerting them to special items. Be careful not to "tweet your own horn" all the time. A good rule of thumb is to tweet out about 10 times linking to other people's work for each time you tweet out about yourself.
These are five tips that can help you get started using Twitter for business. It can be a powerful tool that can drive traffic to your website and create trust and "buy in" from your prospects, customers, or supporters. Stay tuned for more resources about how to use Twitter and other social media tools for your organization.
We are continuing to release more tips and advice on how to drive traffic to your blog or website. Let us know what particular topics would help you grow your business in the comments section or send us an email.
Subscribe to the Free Newsletter | Follow Us On Twitter | Request A Quote
Joel Mark Witt is a producer, speaker, and new media leader who writes about social media and its impact in the business world. He is also the Founding Director of Folk Media. Send him an email: joelmarkwitt (at) folkmedia.org or follow him on Twitter.
Tags: basics, Marketing Strategy, Twitter, twitter for business