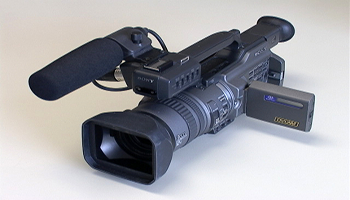 The ways of text-based blogging are slowly becoming ancient and the era of video blogging is upon us.  Video content is easy to create and online video websites, such as YouTube, make it simple to upload and share content.  But, like most social media practices, it's not always that easy.  There are a lot of things that can (and should) be done to maximize the views, comments, and "share factor" of your videos.  So, what are they?
1.  Create a channel.
YouTube channels allow a user to have a dedicated place to upload their videos and to easily share them with others.  When someone accesses your channel, instead of just seeing one video, they will be able to see all of the videos you have uploaded in an easy-to-use format.  A YouTube channel is a great way to organize your content and distribute it in a simple manner.
2.  Keep the same format.
When you're editing your video, make sure to keep the same general format as other videos.  If you have a title appear in your first video, have a title in your other videos.  If you always have credits at the end, keep the credits constant.  Viewers don't like change when it comes to the organizational qualities of videos.  They want to be able to recognize your content within the first 10 or 20 seconds of your clip.  (You want this too!)  If you change how your videos are edited, you'll be throwing off your viewers.
3.  Respond to comments.
It's highly probable that video watchers will comment on your content.  When they do, make sure that you respond to engage them in conversation.  Remember, as humans, we crave conversation and connection.  If you can provide those two things to someone video YouTube, they'll think you're the greatest – and they'll keep coming back for more.  It's about creating communities, not about individuals.
The only instance you wouldn't want to respond back to someone is if they're comment is rude or inappropriate.  If this is the case, be sure to flag their comment as spam or report them to the YouTube police.
4.  Tag appropriately.
When you upload a video, you have the ability to tag, or label, your content with keywords.  As you tag your content, you want to ensure you're tagging accurately with terms that people might search.  If you're video is about dogs, don't tag "dog eats a dead rabbit in the park."  Chances are that very few people will be searching solely for that.  Instead, tag with "dogs" and "dog eating."  The more general, the better.  Also, if you have a YouTube channel, make sure to tag your channel name in case people search for your content that way.
5.  Encourage contact.
Most people take a hands-off approach when it comes to their YouTube accounts.  No comments, no messages, just content.  That's fine and dandy but it won't get you anywhere.  If you'd like to continue building a community, encourage your viewers to contact you with suggestions, questions, or compliments.  When viewers see that someone is encouraging contact, they will be more likely to leave it.  Be sure to check you account often if you're encouraging contact because you don't want to only log in once a month and have 80 new messages you need to handle.

.


Eric Alpin is the Associate Editor of Folk Media and works for a telecommunications company in Baltimore, Md. He is a social media enthusiast, blogger, writer, and student with a passion for leadership and self-development strategies and techniques. Find out more about Eric on Twitter.



*Photo by bop
Tags: basics, Community, Online Video, Social Media 101, Video, Youtube