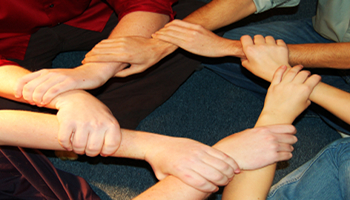 Ah yes, LinkedIn.  The word (or is it a phrase?) sends shivers down the spines of many, including people who use it often.  Some say LinkedIn is too complicated and others say it doesn't yield results.  I'd say both types of people are wrong.
I'm going to give you seven surefire (and easy!) methods to building your network through LinkedIn.  How do I know they're surefire?  I've used them and they worked.
There is no need to be afraid of LinkedIn once you know it's possible to grow your network and circle of influence.  If I'm giving you the secrets…why not give them a try?
1.  Join a group.
This is probably the easiest way to grow your network on LinkedIn.  There is a group for everything imaginable – Toastmasters, Los Angeles, Harry Potter, Google Buzz.  You name it, there is a group for it on LinkedIn.  If there isn't a group, create one!  When you're part of a group, you will meet people with similar interests and your network will grow automatically.  Cool deal, huh?
2.  Post a thread to a group.
Once you've joined your group, strike up a conversation.  Make sure that you create a conversation with useful and valuable content.  Don't just say, "Hey, what's up?"  No one will respond.  If someone does, they probably aren't worth having in your network.  If someone comments on your post, make sure you reply to them.  Conversation builds rapport and solid rapport can lead to a great professional relationship.
3.  Respond to a post by someone else.
Can't think of anything to post as a new topic thread?  Easy enough.  Respond to an existing thread.  Once again, make sure you're posting useful information.  Don't simply agree with a statement that has been made.  If you agree, explain why.  If you don't, state your opinion.  You begin to show you care about others when you weigh in on their topic of conversation.  When people know you care, you build your network and your trust.
4.  Search for people.
Searching for people is a great way to connect because it put you in the driver's seat.  First, decide who you want to find.  How about current co-workers?  Maybe your boss from your last job?  How about people in your local area?  There is pretty much an endless scope of people you could locate on LinkedIn.  Find someone you know (or would like to know) and dive right in.
5.  Import your email contacts.
The ability to import email contacts into LinkedIn is awesome.  If you use your email address book a lot, this is a nice way to connect with people who you already email regularly.  LinkedIn will locate your contacts, find the people who have active LinkedIn accounts, and will allow you to invite others to join the site.  It's a quick and easy way to grow your network.
6.  Advertise on other social networking profiles.
Whether you've been a LinkedIn member for five minutes or five months, it's still good to advertise your LinkedIn existence on your other social networking profiles.  I know that there are a lot of friends on my Facebook page that I wouldn't mind creating a "professional connection" with on LinkedIn.  Don't just find others; have them find you.
7.  Spread the verbal word.
I know, it's old school but it still works.  I drop the "L" word (or is a phrase?) in conversation a few times a week to see who uses LinkedIn and who doesn't.  This method has actually led me establish quite a few connections and the results continue to grow.  At times, nothing beats good ol' fashion yapping.
Now that you know seven ways to build your LinkedIn network, you should begin to establish connections on a regular basis.  Make sure that your connections are valuable; don't just connect with people to raise the number displayed in your profile.  In social networking, and especially LinkedIn, it's not the quantity of your connections, it's the quality of your connections.
If you'd like, feel free to connect with me on LinkedIn.

.


Eric Alpin is the Associate Editor of Folk Media and works for a telecommunications company in Baltimore, Md. He is a social media enthusiast, blogger, writer, and student with a passion for leadership and self-development strategies and techniques. Find out more about Eric on Twitter.



*Photo by juliaf
Tags: LinkedIn, networking, Relationships, Social Media 101