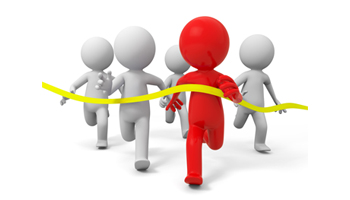 We're past the time where social media is the shiny new toy in the room. It's been unwrapped and played with and a lot has been written about what it is. If you're still on the fence, it's probably something you should be doing.
There's a lot of competition out there as you work to build your platform. Developing an engaged audience that's looking forward to reading your content takes work. Make sure that you're staying ahead of your competition by using social to:
Listen To Your Audience – It's something that you can use as another customer service post, allowing people to Facebook message, or Tweet you. It's also a place for you to listen to the conversations going on around you to find out what your readers are truly interested in.
Add Value For Your Readers – Once you have an idea what it is that your audience is looking for, you can utilize your social media platforms to provide value. What sort of things are they interested in? What interests do you share? What do they truly want to know from you? All of these should be considered as you determine the type of social presence you want.
Build Relationships – A lot of companies are spending too much time analyzing social numbers. While the bottom line is important, relationships are the currency businesses need to be trading in. The world just became a lot smaller again, and it's now possible for customers to do business with people they know and trust. If that's going to be you, it may take some leg work.
Reach A New Audience – With social media, it's possible to land in front of people who would never otherwise be exposed to your business. This is a great thing. So be active. Participate in the conversation. Seek out new people on Twitter, Google Plus and LinkedIn. You never know who might want to do business.
Tell Stories – Social is a great place to catch your audience's attention, and not let go. People love stories. They grip us and entertain us. Social media platforms are a great place to tell them. Facebook and Google Plus both allow for extended status lengths, making them ideal platforms for this kind of thing. Conveying your stories with photos or infographics also tends to resonate. Google Plus statuses also tend to rank well in searches (Surprise!).
Develop A Personality For Your Brand – We've already established that your readers tend to do business with the people they like and trust. So how do you get there? Share some of your personal interests. Tell a little bit about how you're spending time away from work. You never know what may end up being a connecting point with your readers.
Fix Your Audience's Problems – Chances are, your readers didn't find you by accident. They were searching you out, or clicked on your link because they have some type of problem they're looking to solve. You have the expertise. Now's the time to provide solutions. Err on the side of giving information away. Tell your customers how to fix, replace and shop for things. There's a better chance they'll remember you when they're in a bind.
About The Author: Julianne Parrish is a freelance writer that specializes in marketing and advertising. She writes for sites featuring single script open signs technology, that help companies drum up new business. In her free time she enjoys reading and spending time with her daughter.
Tags: Social Media 101