ABOUT
What is the secret to success for professionals and business owners using online marketing?
Having the ability to connect with a community of targeted prospects and clients using social media .

Content and community drive the internet. And using the right content in the right places will determine not only how well your website converts visitors into sales, but also how well you rank in search engines and how many links you get.
Now that social media has become the smartest strategy for building an authoritative online marketing plan, it's your social media skills that will set you apart for success.
Folk Media is all about helping you:
Develop social media skills for yourself and your staff to take your business to the next level online
Learn the tools and uses in real-world environments
Develop and manage powerful social media content without sucking your time dry
Demystify the social media marketing process and make it accessible, even for beginners
Manage your social media presence in a professional and scalable way
Social Media Marketing Success For Your Business…The Core Of What We Do
Smart social media marketing is all about building a community of loyal fans and getting them to take some form of action. It could start with getting them to sign up to your email list, order a product, make a donation or hire your business to provide a service.
In other words, true social media marketing is about getting people to respond the way you want them to.
It's time to learn how to be connected to the people that will make a difference to your bottom line. That's what Folk Media is all about.
We do this in two primary ways.
First, through our services. We can provide turn-key solutions for your business or nonprofit and manage your social media presence for you.
Second, through our products and trainings. On this site we have hundreds of free articles, podcasts, videos, eNewsletters, eBooks and trainings to help you succeed in using social media on your own. In addition to all that free content we offer premium products that will guide you step by step through the social media process.
To get started, sign up for the Folk Media Insider Program and join online marketers, business owners, nonprofits and professionals in getting free actionable content each week. We will never share your email address with anyone.
Sign up right now to be a Folk Media Insider and download the free report "7 Ways To Use New Media To Market Your Business" for free.
The Folk Media Team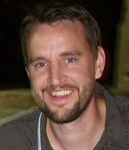 Joel Mark Witt is the Publisher of Folk Media and author of 21 Days To Twitter Leadership and How To Use Social Media To Find A Better Job. He is a producer, author, and speaker who consults with businesses and nonprofits on how to use social media in marketing and communications. Connect with Joel via Facebook | Twitter |  LinkedIn
——————————————–

Eric Alpin is the Associate Editor of Folk Media and works for a telecommunications company in Baltimore, Md. He is a social media enthusiast, blogger, writer, and student with a passion for leadership and self-development strategies and techniques. Connect with Eric via Facebook | Twitter | LinkedIn | Website
——————————————–
To advertise on Folk Media, visit our advertising page. If you'd like to become a contributor check out the write for us page. Here's a list of our past and current contributors. Internship information can be found here. Check out the career page if you are looking for a job. Become a fan of Folk Media on Facebook or Follow Folk Media on Twitter. All other inquiries can contact us here.
Have you signed up to be a Folk Media Insider yet?