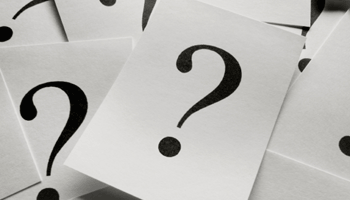 Written By Eric Alpin
So, you are now on Facebook, Twitter, or LinkedIn. You are beginning to add more friends, followers, or connections as each day passes. You've gotten accustom to posting daily updates on the status of your life or business. But you feel like there is a void in your status updates or tweets – and rightly so.
Many of the individuals or business that have social networking profiles don't know how to maximize the potential of status updates. The social networking world is full of, "I just did this" or "We're doing that." But, how often do you see a genuine question posed on a social networking site?
Asking a simple question via your status updates or tweets can enhance your social networking presence in three ways: become noticed, initiate conversation, and increase friends and followers.
Questions Help You Get Noticed
If you are following a large number of people or if you have a large lists of friends or connections, you know that keeping up with status updates can be a full-time job. However, most status updates are void of substance. Who cares if Joe is reading a magazine or if it's dinnertime for Jane? I know that I don't. I want to see status updates that mean something.
By asking valid questions in your status updates, you stand out. Your status update is not about a magazine or dinner so it catches the eye of others. You almost force your friends, connections, and followers to respond to your question. Instead of posting about dinnertime, post, "It's almost time to eat and I want to try a new restaurant. Does anyone have any suggestions?" Try to avoid "yes" or "no" questions and be sure to respond to the people who answer your question.
Questions Initiate Conversation
It is interesting to think that some people use social networking tools for everything but socializing. No matter what social networking site you call home, it exists to bring people together. If you don't connect with others, you aren't using it to its greatest potential.
Asking questions is a great way to initiate conversation. Not only are you conversing with your friends but they are also conversing with each other. I recently posted a status update about using a Mac and the thread turned into a hardcore Mac vs. PC debate – which I wasn't even involved in! Two of my friends kept going back and forth until one gave up. Asking questions helps bring out the "social" in social networking.
Questions Increase Friends and Followers
There are different motivations to use social networking sites. One common motivation is to grow and expand your network. Social networking sites, especially Twitter, make this very easy. However, less-than-exciting updates and tweets won't help generate a bigger and better network.
When you pose a question on a social networking site the desired reaction is to intrigue others. Once you have caught the interest of someone, the chances that they are going to tell others about you are much greater. For example, if I am following you on Twitter and I find value in the information you share, I will recommend you in my Follow Friday tweet. Posing good questions to your network is the first step in becoming a viral personality among social networking sites.

Eric Alpin is a social media enthusiast, blogger, creative genius, and avid reader.  Eric enjoys maintaining his website, ericalpin.com, editing and shooting video, reading, hanging out with his friends and girlfriend, and playing sports.  Eric works full-time for a telecommunications company in the Baltimore, Md. area and is currently seeking his Bachelor's Degree in Communication Studies.  Follow him on Twitter or Facebook.
Get the book "21 Days To Twitter Leadership" The Step-By-Step Guide On How To Twitter, Get Twitter Followers And Position Yourself As The Leader In Your Industry In Less Than 10 Minutes Per Day.
*Photo By makeitgreat

Tags: asking questions, eric alpin, Followers, status updates