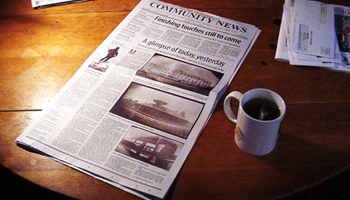 There are many news-worthy aspects of your business or non-profit that don't fit into the "press-release-driven mainstream media." There are many times when your organization has what we call casual news. In the recent past there was no place for this type of news to find an audience. But the Internet has changed everything. News that would once fly under the radar can find a home on your blog, YouTube, Twitter, or a number of other sites.
Here are five social media strategies recorded last week during my daily audio updates on Utterli. (Utterli is a free voice recording service that allows you to record a message using your cell phone and then post that message to the web). .
Monday: Casual News Explained

Tuesday: Casual News: Find And Tell Stories

Wednesday: Casual News: Story, Drama, Conflict

Thursday: Casual News: Add Value – Be Helpful

Friday: Casual News: Think Like A Media Organization
.
. .
.
Joel Mark Witt is a producer, speaker, and new media leader who writes about social media and its impact in the business world. He is also the Founding Director of Folk Media. Send him an eMail: joelmarkwitt (at) folkmedia.org or follow him on Twitter.
Subscribe to the Folk Media Insider eNewsletter. It's a free monthly newsletter packed with tips, tools, strategies and resources to take your business to the next level online.
*Photo by Matt Callow