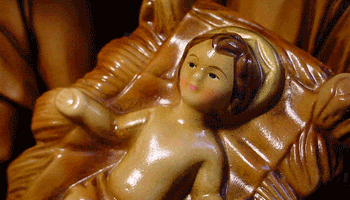 Jesus Christ is like no other figure in human history. His life made its mark on every aspect of our modern lives. Today we celebrate his birthday.
Although there is NO way I could even begin to compare your social media strategies and efforts to the son of God,  I am going to draw a few simple parallels.
Think about them.
Start Small
You will most likely start your social media with humble beginnings. You might have started a blog with a few readers, your Twitter followers are most likely in the double digits and you don't have anyone on your email list. But it is the act of starting that can change your business in big ways.
Jesus was born in a humble setting. He was literally born in a barn since there were no hotel rooms available in Bethlehem. He didn't come into the world with pretense or formal announcement.
Build Community
As you begin to build your social media presence you will begin to understand the importance of community. It is your community (blog readers, Twitter followers, commenters, LinkedIn connections, etc) that will build your long-term value.
Jesus understood the importance of community. He spent almost every waking moment with his twelve disciples. He also spent time attending dinners with tax collectors and sinners. Jesus would hang out with the average simple folks. He knew that community was to the work he was doing.
Use Stories
Your social media comes to life when you tell stories. Tell stories in your blog posts. Tell stories in your videos. Link to stories in your Twitter and Facebook updates. Stories will connect with you audience like nothing else.
Jesus gave out the words of life through his stories. He spent his time teaching by telling simple stories to illustrate his spiritual points. He talked about the Good Samaritan and about the Kingdom of Heaven. His audiences were spellbound and interested because of his storytelling.
Give of yourself
As you embark on this journey of using social media for your business this year, consider finding ways to give of yourself without expecting anything in return. Comment on other blogs, help connect other professionals to each other on LinkedIn and take time to personally connect with people. Use these social media tools, not only for business, but also for friendship.
Jesus sets an example of giving of oneself like no other. By offering his life for us, he was able to be the link between a holy and perfect God and fallen flawed humans. For this I am personally thankful.
Merry Christmas.
~ Joel Mark Witt
*Photo By Patrick Q
Tags: Community, Joel Mark Witt, Storytelling