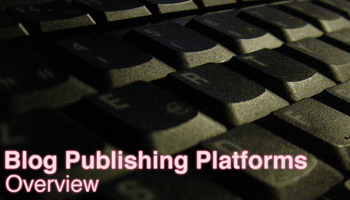 .
As a business owner or professional, blogging can be confusing. Mix in the multiple platforms, terms and tools and blogging can become downright scary.
I want to demystify some of the pain points for you so you can get your business up and running with a blog. Here is a quick sketch overview of the four platform tools in online blog publishing.
Blogger.com
Blogger is the best starting point for most people. It is owned by Google and you can be set up  and publishing in a matter of minutes. To use a camera analogy – Blogger is like a point and click fixed lens camera.
But unlike a point and click, Blogger does have the option to manually override the entire template and customize it for your business.
But let's not get ahead of ourselves. Blogger is a good starting point – but your business may want something a little more robust…
Enter WordPress
This platform is fast becoming a standard in online publishing. It is open source (meaning it is free) and has multiple add-on features and plugins. We use WordPress to power the FolkMedia.org site and our other client sites.
Unlike Blogger, if you want to get the full benefits of wordpress, you will need to host it on your own site. If you are tech savy, you could read the install instructions and follow the step-by-step setup. Of course we here at Folk Media would be happy to help you install and host. (How's that for a shameless plug?)
Movable Type
Movable Type is your choice if your business wants a good solid publishing platform that is backed by a great customer service team. They charge for the blogging software – but you get support.
Some of the largest online publishers and media companies use Movable Type to power their blogs and content. The folks over at Six Apart (makers of Movable Type) have built a very useful CMS.
Ning
Want a custom MySpace/Facebook type platform for you clients or customers? Ning may be a great solution.
Ning is free. It is easy to set up and easy to publish. The templates and styles are customizable. If your organization or business lends itself to high customer feedback and involvement – then Ning may be the solution you need.
These are four of the top players in the online publishing and blogging space. Personally, I am blog platform agnostic. The important thing to remember is to create compelling content that people want to read – see – listen to – or watch. The platform is only a tool to amplify your unique business voice.
.
.
Joel Mark Witt is a producer, speaker, and new media leader who writes about social media and its impact in the business world. He is also the Founding Director of Folk Media. Send him an eMail: joelmarkwitt (at) folkmedia.org or follow him on Twitter.
.
Subscribe to the Folk Media Insider eNewsletter. It's a free monthly newsletter packed with tips, tools, strategies and resources to take your business to the next level online.
Tags: Blog, Blogger, publishing, Wordpress