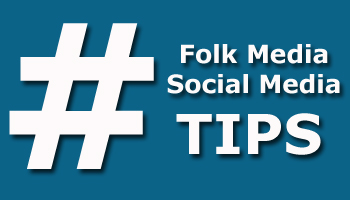 Here are the tips that we posted this week on Twitter about using blogs for your business. You can use Twitter Search to look these up. For the future – follow @FolkMedia to stay up to date with online Twitter discussions and tips.
Blogs are dead. At least as ends in themselves. Remember they are platforms just like Twitter – Facebook – etc.
Does your business really need a "blog?" you could use a Facebook Fan Page for the same purpose.
A Facebook fan page gives you great social features and essentially acts like a blog.
So what is a blog? The way info is posted or the platform used?
At Folk Media we use Worpress (platform) to manage our site. But we treat it like a CMS. Is our site a Blog?
Some businesses use a custom CMS to post current dynamic info. Is this considered a blog?
We (Folk Media) use the word blog to mean short updates in chronological order – regardless of platform.
Technically Twitter and Facebook Fan pages are blogs.
It seems like the whole notion of what a blog is has come into question. Platform or protocol?
Does it really matter what a blog is? Do we even need the word *blog*?
Think of a blog as your own personal or business media channel.
List three people in your life that you know who blog. Make it a point to buy them coffee and pick their brains.
CEOs and other executives who blog seem to get it. Does your CEO?
List five ways you can involve the higher ups at your company in social media. Now implement.
Up and coming blog platform Tumblr. They really make it fun to post.
According to Harvard – only 10% of Twitter users create 90% of the content. Where does your organization fit?
Ever consider linking up with other bloggers is your industry? You know – write for each other's sites and cross promote.
Don't think for one minute that your competition isn't watching you online.
What is the call to action on your business website or blog? You should make it very clear.
Your competition is looking for any chance to use social media to steal your business. Beat them to it.
Not a good idea to have too many options for your readers/listeners/viewers – keep one simple call to action the focus.
Remember – blogs aren't just text. They use audio – video – and photos too.
What social media business tips would you add to this list? You can post them below in the comments or join the discussion in real time on Twitter.
Subscribe to the Folk Media Insider eNewsletter. It's a free monthly newsletter packed with tips, tools, strategies and resources to take your business to the next level online.