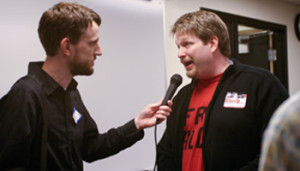 I can remember the first time I met Chris Brogan. I thought the guy was a whackjob. He was speaking at Bootcamp Pittburgh (a Podcamp offshoot) in 2007. I was there also to speak and make more connections with others interested in online media.
Chris was sporting a "free hugs" T-shirt and showing us YouTube videos of people embracing. At the time I can remember thinking, "what a bunch of mumbo jumbo hippie crap." But he seemed to be a leader in the new media/podcasting space, so I interviewed him for an early episode of our Folk Media podcast. Little did I know then that meeting Chris Brogan would change how I thought about new media and the internet, and ultimately my career. He had insights into the internet culture that made no sense to me then – but were downright prophetic when I look back on them.
Chris is at heart a community guy. He looks to bring people together from all walks of life and has been a mentor and cheerleader for me and countless others in social media and online content creation. When he shared with me that he would be starting a new membership community for online entrepreneurs I was very excited. I joined as one of the founding members of the Third Tribe community.
The Third Tribe is run by Chris Brogan, Brian Clark, Darren Rowse and Sonia Simone. If you are unfamiliar with some of these names – all four of them are full-time bloggers and internet entrepreneurs that have greatly influenced how businesses and individuals market online using social media and blogs.
You can read more about the Third Tribe here.

We are very serious about what we do here at Folk Media… helping businesses use Twitter, Facebook and other social media tools for marketing. I am a personal member of the Third Tribe because I want to help more people and learn more myself. I am getting tremendous value from being apart of this community.
It's amazing the amount of seminar content, transcripts, and worksheets new members will get instantly upon joining:
The Quick Start Guide to Making Money Online
Building a Business Around a Blog Part 1 (Darren Rowse with Brian Clark)
Building a Business Around a Blog Part 2 (Chris Brogan with Sonia Simone)
Building a Business Around a Blog Part 3 (Brian Clark with Sonia Simone)

They have weekly live Q&A coaching calls, a robust forum and tons of really smart marketing and social media people who are already members. These folks will literally help you out with any social media question. More great educational content is on the way.
Chris has since become a friend who I respect and look up to. He's helping people learn the skills to build community around their businesses and connect with people. I look back now and realize he wasn't so wacky after all.
I would definitely give the Third Tribe a spin if you are serious about social media and online marketing.
You can read more about the Third Tribe here.

.
Joel Mark Witt is the Publisher of Folk Media. He is a producer, author, and speaker who consults with businesses and nonprofits on how to use social media in marketing and communications. Get more from Joel on Twitter or Google Buzz.
.

Tags: Brian Clark, chris brogan, online marketing, Third Tribe