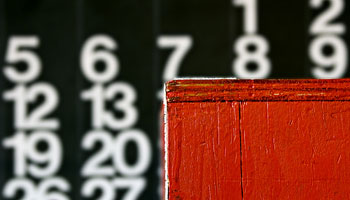 It's no secret that content is the currency of the web. It's almost cliche to say this since so many people write and talk about it. After reading this blog for a while you should know how critical it is to create compelling content for your business and website.
Why consistent content is important
By posting consistent content you are helping people know that you are present and active. You are also staying on the top of mind for potential prospects and customers. The worst thing that can happen is to fade out of a prospect's mind.
Plus, Google loves consistent content. In fact all the search engines like to see that you are posting regularly. They will begin showing your content in search results more if they see a consistent posting schedule.
What makes online content valuable?
Good content obviously provides value (something I harp on constantly). But good content also needs to be consistent. The value is in the actual content but it is ALSO valuable because of the consistency of that content.
If you have a genius idea once each year you will lose out to the person who has a good idea each day. Consistency and frequency matter and they are valuable in their own right.
So how often should you create content?
That depends on your business and audience. I used to say it doesn't matter as long as you're consistent. And that's still a good rule of thumb. But I've become more aggressive in my stance.
So here's my (newer) answer.
People are now always online – always working – always connected. The Internet is a 24 hour global environment. To play in this space I firmly believe that you need to create and post ONE piece of valuable content each day.
Obviously this is the ideal. You'll need to adjust according to your ability and business. For example, some create and post content each weekday. Others post every Monday – Wednesday – Friday.
If daily seems like too much for you, keep reading. We can come up with some creative solutions for you.
Practical steps to creating consistent online content
First, commit to a schedule. Don't just post blog articles and Twitter messages willie-nilly. It's important to plan so you can be consistent. In week 12 of our Customers While You Sleep training we talk about how to construct a schedule for content.
A schedule forces you to do your thinking in advance. Then when it's time to create content, simply refer to your schedule and BAM – you'll know what to do.
Second, be creative with what you consider content.
There are only four things you can share online:
Your "content" doesn't HAVE to be a 700 word article on your blog. It can be a couple Tweets that point people to news articles or other people's content. It can be a photo or video. Content can be a simple question asked on your Facebook fan page.
Other things that work as great content.
Interviews with industry experts
Summary articles and book reviews
Short video updates from industry conferences
Today's Action Step
Make a commitment to create consistent content.
Then, in the comments, write out your biggest obstacle with creating consistent online content. What do you struggle with? How are you going to use some of the advice above to tackle your core challenge?
Any other thoughts or advice you can provide?
.
Joel Mark Witt is the Publisher of Folk Media. He is a producer, author, speaker and social media marketing coach who consults with businesses and nonprofits on how to use social media in marketing and communications. Get more from Joel on Twitter or Google Buzz.
*Photo by Andrew Morrell
Tags: Content Creation, Joel Mark Witt