Direct response marketing is the solution to small business marketing challenges.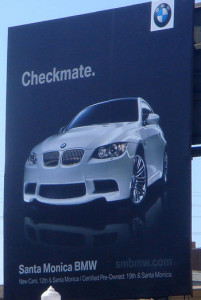 Good morning class. Let's start with an easy question… what's wrong with this advertisement?
… (insert Jeopardy music here) ….
If you answered that it is pointless – worthless – stupid and well designed…
You would be right.
It's pointless because it's not clear. What does "checkmate" mean when we are talking about cars?
It's worthless because it adds zero value to the anyone.
It's stupid because it is a waste of money for BMW and won't directly translate to more sales.
It's well designed and laid out nicely by a very good graphic designer.
This ad is the quintessential example of what NOT TO DO when designing your small business advertising. BMW has millions of dollars to waste on these type of campaigns. You don't. So don't even try to compete.
Instead, focus on finding ways to advertise your small business that will DIRECTLY TRANSLATE to more SALES. This is often called "response marketing," "direct marketing" or "direct response marketing."
Direct response marketing is the magic bullet for your business
When using direct response marketing, the goal is to get people to take action when they see your ad. Ultimately you'd like to have prospects buy your products and services – but getting them to opt in to an email list or call for more information is great too.
The idea is to get a response from your audience. It doesn't matter if they see a billboard, watch a TV ad, listen to a radio spot or read a classified newspaper listing – your goal is the same. Get people to pick up the phone, write you, subscribe to your email list or buy something.
Why direct response marketing works
Your business can't afford to do big brand advertising. You don't have the millions of dollars like Coke, Microsoft, Doritos and BMW. You may not have much of an ad or marketing budget at all. Because of this you'll need to recoup any investment you make in advertising immediately.
You can't wait the months and sometimes years for a general branding campaign to pay off. If your business spends a dollar you need to get two dollars back in the form of sales.
Fortunately for you, direct response marketing is more powerful now than ever before. In the past all we had were traditional media channels. Now we have the Internet, email and social media that can not only reach people directly, but leverage the power of their friends using social proof.
How to start using direct response marketing in your small business
I want you to burn this into your brain….
EVERY time you create an ad, write a sales letter, produce an TV spot … always have a clear call to action. Be direct in asking people to make some sort of effort to download something, call a number or subscribe.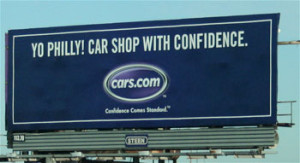 This ad is getting better. At least they have a website listed on the billboard. It would be better if they had a clear call to action. Something like "Visit Cars.com to download your $300 voucher for a new car."
Don't ignore branding – make it serve you
In the process don't ignore branding. Instead make branding part of response process. Name your products and services with "brand" names that can help to sell. For example when we were initially designing Customers While You Sleep we first had the idea to call it Small Business Social Media And Marketing Training. But in developing a brand we chose Customers While You Sleep instead. We now can use this to continue to develop products and services around this "brand."
If you've been following along with how we promoted CWYS, you'll notice that you didn't see big banner ads all over the internet. Instead I sent out text based emails to pre-qualified prospects and customers who I knew wanted 100 or more new leads each month for their small business. I gave a clear call to action inviting people to join the site. And it worked – people joined and I was able to "brand" the name Customers While You Sleep in the process.
Exploding your business
Imagine that everything you do in your marketing focuses on getting prospects to click, call, subscribe, sign up or buy. What would this do to your bottom line? You aren't simply putting your marketing message out in the universe and hoping customers take action – you are asking them to take action directly. Try doing this for the next six months and watch your profits skyrocket.
Today's Action Step
Brainstorm five call to action items that you can put in your various marketing messages. Make a list and begin using them immediately in your business marketing.
Now go take action.
This article is part of the Internet Marketing Basics series where we cover the fundamentals of internet marketing and social media.

.
Joel Mark Witt is the Publisher of Folk Media and author of 21 Days To Twitter Leadership. He is a producer, author, speaker and social media marketing coach who consults with businesses and nonprofits on how to use social media in marketing and communications. Get more from Joel on Twitter or Google Buzz.
Tags: direct marketing, Internet Marketing Basics, Joel Mark Witt