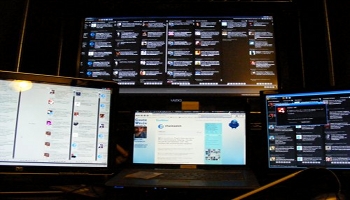 The folks over at Twitter have recently made some changes to the .com interface, bringing more user functionality to those who choose to use the browser-based version of the service. With the recent improvements, I'm sure the Twitter execs would like the capture some of the tweeting population who use applications, such as HootSuite, Seesmic, and TweetDeck, in order to publish their thoughts, manage their profile, and track certain data.
But are the improvements really going to make a difference? Are dedicated application users going to "make the switch?" Probably not. However, users of the browser-based version of the service can now sleep a little better know that they aren't missing out on as much as application users. It's all about control and .com users have more of it now than ever before.
Here are some of your thoughts on using applications over the browser-based version of Twitter…
Question: Which do you prefer, the browser-based version of Twitter or a third party app.? If it's an app, which one? Why?
@curtmoss – "Apps! Still love Twhirl, but like Seesmic too. Use HootSuite also. Twitter for iPhone for the mobile choice… Can keep them running in a column on 2nd monitor, sound alerts for replies/DMs, automatically refreshes, more like IMs"
@KristerDunn – "I use the Twitter site or via Tweets app on LinkedIn. My phone is basic so no mobile other than texting in tweets/pics/vids… I do use Hoot to preset some things. LI app is what's on during day (only way i can access). Browser at home bc straightforward"
@Iceman2343 – "tweet deck… it lets me view fb and twitter at the same time"
@For_Keeps – "I'm with [Iceman2343]! TweetDeck… tbh, it's the only Twitter app I've tried but it's easy to navigate and I never have any issues w/it crashing."
No matter what the perspective, all points and reasons are valid. If one version of Twitter fits your needs more than the others, go for it. I think that there is a market share for both applications (super users, businesses, mobile devices) and the browser-based version (regular users, firewalled or locked down users).
Do I think that the .com version of Twitter will recapture some of the market that currently uses applications? No. Do I think that the web designers have improved the lives of people who use Twitter.com on a regular basis? Yes.
What are your thoughts on the latest Twitter improvements? Do you prefer to use the website or a third party application? Why? We'd love to hear your thoughts!

.


Eric Alpin is the Associate Editor of Folk Media and works for a telecommunications company in Baltimore, Md. He is a social media enthusiast, blogger, writer, and student with a passion for leadership and self-development strategies and techniques. Find out more about Eric on Twitter.

*Photo by lakelandlocal
Tags: @curtmoss, @For_Keeps, @Iceman2343, @KristerDunn, eric alpin, hootsuite, Seesmic, tweetdeck, Twitter, twitter applications, Twitter apps, twitter.com