Email is still critical
Many marketing and branding professionals disagree with me on the importance of email. Some claim it is dead as a marketing tool, others feel that it is useful but only as a secondary communication tool.
I believe it is more important now than ever to ask your site visitors for their email. By getting an email address you have placed the power of follow-up firmly with your business. Even website visitors or customers who know, love and trust you need to be reminded that you exist and encouraged to return to your site. Email is one of the best tools to do this.
Get the email early
The best time to get a customer's email is the first time they visit your site. There are several ways to do this through opt-in forms and give-aways. For example on this Folk Media site, I have created two valuable videos.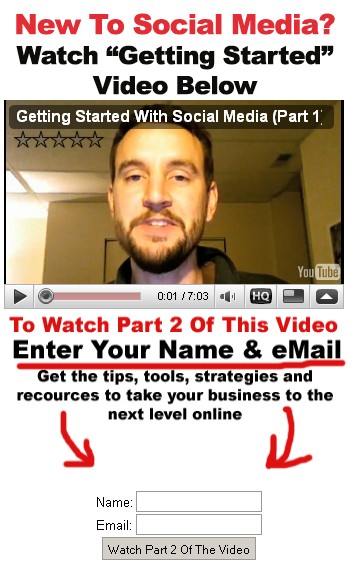 The first is an introduction to social media that gives our visitors a good primer. At the end of the video I offer a second video for free in exchange for an email address. Plus I stack the value for the visitor by giving them weekly tips and strategies to market their business online…. for free…. directly to their inbox.
As you can see, we are not ashamed to ask for a visitor email. The reason we can be so bold with our ask is I know we will offer massive value to our subscribers. The information in our email newsletters is powerful and action oriented. Your goal is to create the same type of valuable content.
Asking vs giving
Many businesses are afraid they will "turn off" site visitors by asking for their email. If you feel this way you need to change your mindset from asking to giving. Instead of asking your visitor for their email – offer to give them something of high value for free.
Here are some ideas of valuable items you can give away.
eBooks
reports
whitepapers
case-studies
training videos
audio interviews with professionals
coupons
discount codes
articles
physical products like books, DVDs and CDs
All a visitor needs to do to claim your resource is register their email address. By changing your mindset to giving rather than asking you will begin thinking on a whole different level.
Action Steps to getting emails
Here are the steps you should take to begin getting email addresses online.
Start thinking about the massive value you can give away first, then simply ask for a simple email address in return.
Offer to give away something for free to everyone that comes to your site. Be bold in your offer and make it the objective of your site to collect email addresses.
Sign up for an email service provider and begin to include opt in forms on various parts of your website.
By offering something of massive value and then asking for an email address, you will be building a list of prospects and customers that will add value to your business online.

.
Joel Mark Witt is the Publisher of Folk Media and author of 21 Days To Twitter Leadership. He is a producer, author, and speaker who consults with businesses and nonprofits on how to use social media in marketing and communications. Get more from Joel on Twitter.
.
Get the book "21 Days To Twitter Leadership" The Step-By-Step Guide On How To Twitter, Get Twitter Followers And Position Yourself As The Leader In Your Industry In Less Than 10 Minutes Per Day.