I've been thinking and writing about authenticity lately. There is a huge shift in how people respond to advertising and marketing messages.
Watch this video and then see my comments below.
Here's what I observed.
1) They are relying on novelty to display their ad
This may gain some attention with magazine readers. But I'd guess that it's getting more attention for ad agencies who are desperately trying to find ways to continue with their old school business model of interruption advertising.
2) There is no value being offered
Where is the value of this ad? If someone is reading a magazine – their mind is in a much different mode than when watching TV.  I would suggest that readers want to see value not novelty.
3) Are iPhone users even reading paper magazines?
This is a genuine question. I haven't personally done the research – but I'd guess on a gut level that most iPhone users are NOT reading paper magazines and newspapers. They are most likely getting their information and content from the web or…dare I say the obvious…their iPhone.
So I'll ask again. What are some things you observed?
How to stand out for real
Over at Copyblogger, Sonia Simone has a great article about how attention alone won't make you rich. She's right.
But it seems that ad agencies continue to push for the BIG attention getter type advertising.
Get attention. But do it so you can offer your prospects and customers VALUE
Get attention then provide value. Then deliver that value.
In the comments below – list 3 ways that you can grab attention without being novel. In other words – how can you capture attention while providing great value to your prospects?
.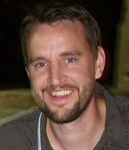 Joel Mark Witt is the Publisher of Folk Media. He is a producer, author, speaker and social media marketing coach who consults with businesses and nonprofits on how to use social media in marketing and communications. Get more from Joel on Twitter or Google Buzz.
Tags: ad agencies, advertising, Joel Mark Witt