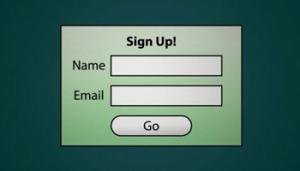 You need a place to add people to your list
Having an email opt in form on your website is critical. Most people talk about getting traffic or visitors to your website. This is obviously very important. But it is more important to convert those visitors into prospects. A great strategy to do this is capturing their email address when they visit.
You may only attract a visitor once.
You need to be aggressive in your email capture. You need to do everything in your power to capture their email address. Someone usually comes to your website to get a specific piece of information. While they are on your site is the perfect time to get them to subscribe to your email newsletter.
The sooner you start collecting emails the better
Even if you don't have a newsletter or process to follow up ready, it is still a good idea to capture emails now. Begin building your database for the future. A well built email list (one that includes prospects that know, like and trust you) is a business asset.
An opt in form is a simple email capture device
Most email marketing services will give you opt in form code
Aweber, for example, allows you to custom build the design and look of your form. Once you have it designed the way you'd like – simply copy and past the code onto your website.
How To Add An Email Opt In To Your Site
5 Easy Steps To Creating Aweber Email Opt In Forms
I currently use Aweber for our business for its robust email marketing software. I am going to walk you through a how to embed a web form using Aweber. You don't have to use Aweber and most other email marketing services are similar. I am showing this example to illustrate how easy this is.
Login to your Aweber account
Click "Web Forms" in the top navigation menu
Click the green "Create Web Form" button
Fill in form details
Name your form
Select "in-line" radio button
Type in your customized "thank you page" address (or use aweber's default url)
Click "Next"
Preview form – If it's to your liking, click "Save"
Click "Get HTML"
Now copy and paste the HTML code  where you want it to appear on your webpage.
Today's 10 Minute Exercise: Go find your code & Embed it
You will need a piece of code
You assignment is to log into your email service provider and find the HTML code you will use to embed the on your website.
Embed that code on your site.
Take your HTML and place it on your site. If you don't know how to do this get your webmaster to do this for you.
Remember, it is critical that you begin capturing the emails of everyone who visits your website or blog. You have most likely gone through a lot of hard work to get people to your site. Don't waste your efforts.
Now go take action.

————————————————————–
Toolset Note: While there are many email marketing services out there, we use and recommend Aweber email marketing software. They are inexpensive, have great customer service and will help you build an effective email marketing list quickly.
.
Joel Mark Witt is the Publisher of Folk Media and author of 21 Days To Twitter Leadership. He is a producer, author, and speaker who consults with businesses and nonprofits on how to use social media in marketing and communications. Get more from Joel on Twitter or Google Buzz.
.

Tags: aweber, email marketing, email marketing services, Joel Mark Witt, opt in form