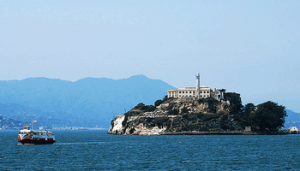 On June 11, 1962 Frank Morris, John Anglin and Clarence Anglin escaped from the most inescapable place in the United States… the federal prison on Alcatraz Island.
They entered the icy, shark infested waters of the San Francisco Bay around 10:00 pm using raincoats as a makeshift life raft. The tide coming in and out of the bay causes  dangerous currents to move around Alcatraz island.
The escaped men had three choices, either row against the current and fight their way to shore, do nothing letting the current carry them out to sea or USE THE CURRENT to get them where they wanted to go…
With social media, most people find themselves facing a powerful current of technology, public opinion and changing communications. In the midst of this powerful force, business leaders also respond in one of three ways.
Swim against the current and burnout
This is the default of most business people. They see other companies using Facebook and Twitter and make a conscience CHOICE NOT to use social media. It can sometimes seem like a moral issue with these people.
You ask them if they're company has a Facebook presence and they answer with a smug expression, "what foolishness, that's beneath us."
Tread water and get swept out to sea
This response is actually more dangerous than the stubborn hard-headed "just say no" attitude.
By treading water, businesses are still making a CHOICE to do nothing. By doing nothing you are making a CHOICE to let opportunities pass you by.
Swim with the tide and use it to take you where you want to go
Smart business people don't fight against powerful dangerous currents. They use the current to get them where they want to go. They swim and row along  along with the force and move diagonally inside the forward movement.
People who understand social media are rowing with the changes. They  have a pretty good idea of what Twitter, Facebook, YouTube and LinkedIn can do for their business. They may not have all the details in place, but they are at least moving and trying things out.
….The three men who escaped Alcatraz faced the same choices. No one knows whether they made it to the mainland or not. Their best chance of survival would have been to row with the current and somehow make their way to shore.
The escaped  men were never found but remnants of their makeshift raft were discovered nearby on the shoreline of Angel Island. It is plausible that they could have escaped by rowing with the current long enough to make their way to Angel Island.
So what is your CHOICE? Do you want to spend you time fighting against social media, do nothing with social media and get swept to sea or work with the current of social media to make things happen for your business?
Social media is here to stay and growing. This massive cultural and communications shift is an opportunity for your business to jump to the next level.


.
Joel Mark Witt is the Publisher of Folk Media and author of 21 Days To Twitter Leadership and How To Use Social Media To Find A Better Job. He is a producer, author, and speaker who consults with businesses and nonprofits on how to use social media in marketing and communications. Get more from Joel on Twitter.
.

*Photo By kashyap_hc