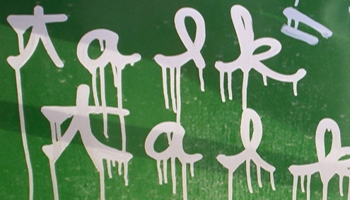 This post was written by guest author Tracy Terry. Find out more information about Tracy below.
I find it interesting that there are so many similarities between Facebook marketing and unlearning everything you were ever taught growing up as a child.  To be a successful Facebook marketer, you must forget everything your mother taught you.  You will then be ready to successfully market your business on Facebook.
Here are few examples of some childhood lessons you will need to unlearn:
Don't Talk to Strangers.  Drop this lesson instantly!  You definitely want to unlearn this one.  You will want to converse and share with as many strangers as possible.
Don't Write on the Wall.  Throw this one right out the window.  When it comes to Facebook, you will need to write on many walls.  You won't just be writing on your own wall, either.  You will also be writing on other people's walls as well!  This is starting to sound fun and rebellious, right?
Be Seen and Not Heard.  In Facebook marketing, you will not just want to be seen, but you will also want to be heard as well.  You will need to find valuable, interesting information to engage your Facebook audience.   Another lesson here we can learn as an adult is to listen.  Often we are telling our own children to be seen and not heard.  Then, we proceed to speak while they listen.  In Facebook marketing it will be the other way around.  You will be listening more than you will be speaking.
Don't Leave the Door Open.  You certainly will want to keep your door open on Facebook.  This will allow you to gain new contacts, clients, and business partnerships.  Accept all friends through your door and learn from your peers and clientele.
Don't Talk Back.  Bet you couldn't wait for that one!  During your Facebook marketing you will want to respond to writings on your wall.  You should try to create conversations with your Facebook friends as much as possible.  It is a "social" network, you know.   Create content that sparks engagement on your own wall and respond when necessary.  Be sure to respond to any positive and negative comments toward your business when appropriate.   Feel free to also partake in conversations on the walls of your friends.  Allow your community to get to know the personal side of your company.
These are just a few of the life lessons you need to unlearn to be a successful Facebook marketer.  I feel that number one, don't talk to strangers, is a major step for some people when beginning their marketing campaign on Facebook.  Don't be afraid to reach out and introduce your business to prospective clients and partners.  You will soon find your winning combination.  Start talking to strangers and writing on walls and you will begin enjoying an increase in leads, business partnerships, and sales!
.


Tracy Terry is the President of Trust eMedia, an inbound marketing agency located in Lake Geneva, WI. Tracy is a inbound marketer helping businesses grow their leads and sales. She enthusiastically engages in blogging, social media community management, speaking, and training. Tracy has been certified in Inbound Marketing, SEO and SEM. She won Hubspot's Inbound Marketer of the Month Award for June 2010 and is an Inbound Marketing Educator. She brings a passion for excellence into her marketing endeavors. Find out more about Tracy on Facebook and Twitter.

*Photo by PinkMoose
Tags: Brand Management, childhood, engagement, Facebook, Facebook marketing, guest post, marketing, marketing strategy of facebook, mothers, talking to others, Tracy Terry