Written By: Nichole Kelly
The big question: "how Do I measure social media?"
There have been many, many discussions around social media measurement especially over the last year. For some reason, nailing down the best way to measure has evaded us all. Most of the challenge is a result of having metrics that can be compared from one company to the next.
Without that, it is hard to say if what you are doing is good, bad, or ugly. This is exacerbated with a certain level of fear of measuring social because it can be difficult to correlate something like Twitter followers to new business.
This is certainly an understandable fear. Just remember that social media is just a tool in your marketing tool kit. If you measure social media using some of the same measurements you've always used, it will start to make sense and be easier to justify your efforts.
There are 5 categories in the social media funnel.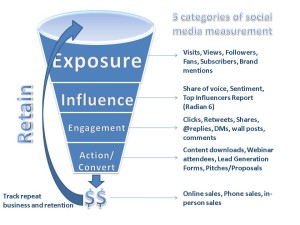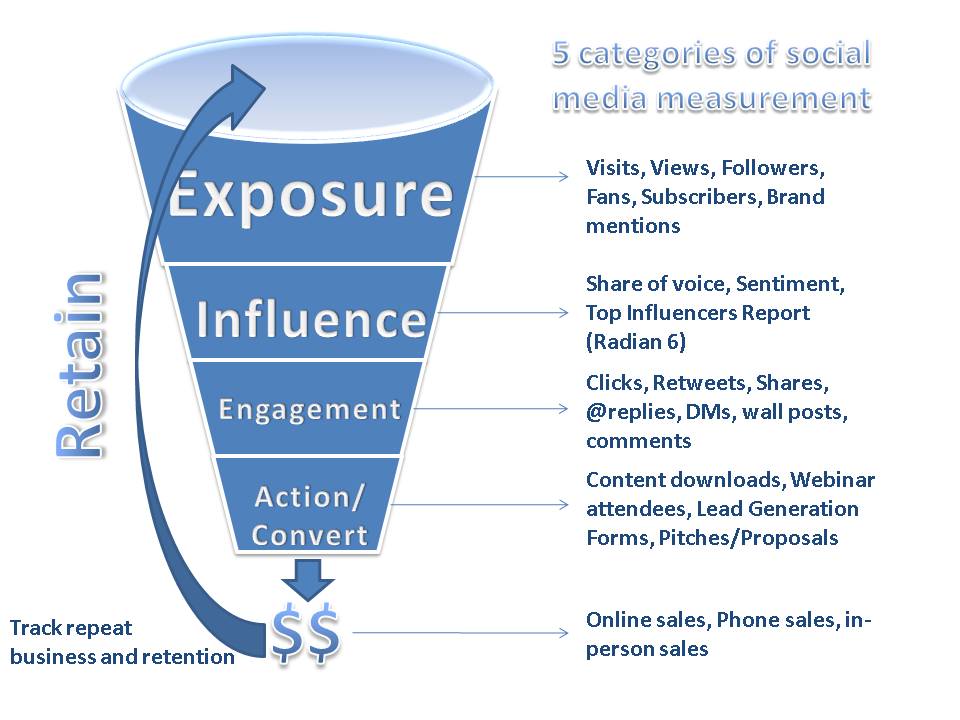 Exposure
This is just like the exposure you've been measuring for years. Essentially, you are choosing metrics which measure your reach. How many people are listening to you or talking about your brand? To actually measure this it is a combination of your normal web analytics, your Twitter followers, your Facebook fans, and running a search for your brand mentions. I use Radian 6 for this, but you could also do a Google search and look at growth in the number of returned results but this isn't as accurate.
Influence
This is prefaced by saying that this category of measurement is a little harder if you don't have Radian 6. By measuring the number of mentions for industry key words against the number of times your brand is mentioned with those key words you can get a measurement of your share of voice in the industry. You can also get a report on the top influencers from your industry. Finally, sentiment, while still imprecise, gives you a general measurement of whether people say you suck or you rock.
Engagement
This is fairly easily measured by tracking the number of clicks you get on the links you post, the number of times your messages are shared or retweeted, how many direct messages you get, and how many comments you receive.
Action/Convert
Is any of this contributing to the pipeline? Measure the pieces of content that tie to your sales process whether it be a white paper, webinar, lead generation form, pitch or proposal.
Sales
Oh, the elusive white horse. How much money are these efforts generating? If you've measured this far, you can measure what translate into dough.
Retain
The step many forget. Don't forget to follow these customers and look at their repeat business and retention rates.
Remember, social media is like the almighty assist. It can help add more opportunities to convert business, but at the end of the day it is just putting leads in the funnel. Your normal sales process is responsible for converting those leads.
.

Nichole is the Director of Social Media for CareOne Debt Relief Services and Vice President of Communications for the Baltimore Chapter of the American Marketing Association. She also blogs about social media and marketing innovation at nicholekelly.com
.

Tags: measurement, Metrics, Nichole Kelly, Social Media 101