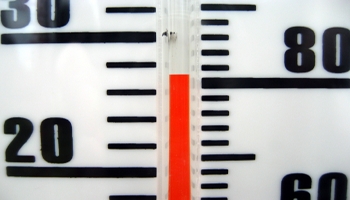 Yesterday was the first day of summer and it's already been a hot one. It was only five months ago that the East Coast was covered in 20+ inches of snow and now some people are craving the white stuff again. Summer heat can be relentless. Even simple tasks, like going to the grocery store, can make you sweat.
As you find relief from the heat in your comfortably air conditioned home or office, you should seriously consider taking part in a few of these activities. The five tasks I've highlighted below will keep you cool and productive while everyone else manages to get through another scorching day.
1. Upgrade to WordPress 3.0 – The newest version of the WordPress blogging platform is finally available and word on the street says that it's awesome. We haven't had the chance to upgrade our Folk Media backend yet but we'll get there. Check out more information about WordPress 3.0 from the official WordPress site. If you're new to the WordPress world and want an all-in-one guide for your learning pleasure, check out Aaron Brazell's WordPress Bible.
2. Track BP and their failures – I feel bad for always knocking BP but they really aren't doing anything to help themselves. Well, their lack of action is your gain. Using hashtags and Twitter keywords, you can track their ineptitude real-time. How awesome is that? Some things to look for on Twitter would be #BP #oilspill #GulfCoast or (my favorite) #BPFail. Honestly, there is a lot to learn from the oil spill and BP's lack of response.
3. Create a Facebook fan page – Everyone is on Facebook now and even with the new privacy controversies, Facebook is still growing. If you haven't considered making a Facebook fan page, I would seriously recommend making it one of your top priorities. Having a fan page on Facebook can increase your business exposure and it can re-educate current clients and customers.
4. Keep tabs on your favorite sports stars – Since summer is a time where baseball is in full swing and football is gearing up, you might want to follow a few of your favorite sports stars on Twitter. WeFollow has a comprehensive list of players who use Twitter. Check them out if you want to cool off with your favorite players this summer.
5. Update your LinkedIn profile – Even though it's nice to often update you LinkedIn profile, we forget. Since it's summer time and you likely have some vacation planned or are shipping the kids off for a weekend at grandma and grandpa's, you might have some little extra time to sit down and update your qualifications. Don't forget to recommend a few people; those are critical in the eyes of potential employers.

.


Eric Alpin is the Associate Editor of Folk Media and works for a telecommunications company in Baltimore, Md. He is a social media enthusiast, blogger, writer, and student with a passion for leadership and self-development strategies and techniques. Find out more about Eric on Twitter.

*Photo by bodgie
Tags: BP, eric alpin, Facebook, hot days, LinkedIn, Social Media 101, Summer, things to do, Twitter