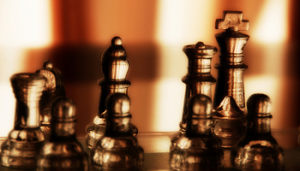 Social media is a two-sided coin.
On one side of the coin are the hype peddlers who tell you that this stuff is hard and they have the secrets to guide you every step of the way. They obviously don't want you to learn how to do this on your own.
The backside of the coin is worse. These people tell you to "jump in" … "try stuff" … "figure it out."
That may work for you if you like to wander aimlessly in the dark. But it's usually better to have some guidance.
I understand that 99% of professionals don't have time to waste "figuring it out" by trial and error. But I also know that 99% of small businesses and nonprofits can't afford to hire a social media consultant for thousands of dollars a month.
So here's my five-part strategy for using social media.
PRESENCE => ENGAGEMENT => RELATIONSHIP => INFLUENCE => MAINTENANCE
1) Presence
Without presence you have nothing. This is the stage that you set up accounts and announce to the world that you are online. Most businesses have gotten to this stage already. If you're business hasn't developed an online social media presence, now is the time.
2) Engagement
Having a presence is good, but the next step is to begin engaging people online. You do this through listening and helping others. Your goal at this stage is to spend time developing a dialogue.
There are two ways to really make this work for you. First, target people geographically. There are people who live in your town or region already using social media tools like Twitter, Facebook, YouTube and Flickr. Reach out to them since they are in your backyard.
Second, engage with people in your industry or area of interest. These folks may live half way around the world, but they share a common bond with you.
3) Relationship
As you begin to engage people natural relationships will form. Author Seth Godin calls it Permission Marketing. But I'll caution you…
If you use social media for the SOLE purpose of marketing and only engage with people to ultimately market to them, you will  be seen as a smarmy dishonest person.
Instead, look to truly connect with folks for the sake of connecting. It's okay to market and share products and services, but do it in a genuine way.
4) Influence
When you spend time building relationships with people by engaging them online, you will naturally build influence.
Influence is how businesses ultimately grow. But you only achieve influence when you spend time with a relationship.
5) Maintenance
Ask any divorce lawyer about this stage. Obviously all married people were in a relationship with influence at some point during their married lives. But they failed to maintain a relationship over time.
Don't let this happen to your social media relationships. Continue to be helpful. Offer value. Be passionate and keep the lines of communication open.
People are not levers to pull. Social media is PEOPLE media. Be aware that each person you interact with could one day be your customer, advocate, investor, donor or friend.
Treating people like actual humans is, by far, the best strategy for social media.
.
Joel Mark Witt is the Publisher of Folk Media and author of 21 Days To Twitter Leadership and How To Use Social Media To Find A Better Job. He is a producer, author, and speaker who consults with businesses and nonprofits on how to use social media in marketing and communications. Get more from Joel on Twitter or Google Buzz.
.

*Photo by pshutterbug
Tags: engagement, influence, Joel Mark Witt, presence, relationship, Social Media 101, social media strategy