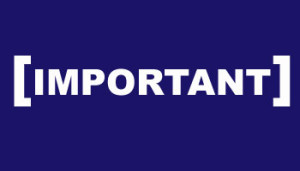 If you notice, sites like Mashable and Lifehacker are using brackets to communicate meta-data quickly right in the post headlines.
Headlines
As an example here are two recent Mashable articles:
Kanye West Raps at Twitter HQ, Tweets a Whole Lot [VIDEO]
How Women Use the Web [REPORT]
So let's say you are getting good at writing clear headlines. By adding in some meta-data you can make them even more understandable to your audience.
Simply put a label in all caps and surround it in brackets. This will clue your audience into what you have in store for them.
These bracket labels can be used for a lot more than just blog headlines.
Email
When sending an email to my team I use two versions of this. I try to help them know the priority I place on emails by labeling them with two distinct labels.
"[ACTION NEEDED] subject line"
"[REFERENCE] subject line"
I've been getting 400% better response from the action items since I started doing this.
Twitter
Here are some recent Twitter posts I've made using this technique. My notes are in brackets.
[Are you publishing online yet?] Amazon: E-books Will Overtake Paperbacks by the End of 2011
[Finally!!] YouTube Increases Video Time Limit to 15 Minutes
Today's Action Steps
First, if you found this article helpful please share it on your favorite social network below.
Second, try using the bracket technique in your next blog post, email or tweet and then leave me some feedback in the comments below. Are there ways you think you could use this that I didn't mention?
Now go take action.
.
Joel Mark Witt is the Publisher of Folk Media and author of 21 Days To Twitter Leadership. He is a producer, author, speaker and social media marketing coach who consults with businesses and nonprofits on how to use social media in marketing and communications. Get more from Joel on Twitter or Google Buzz.
Tags: headlines, Joel Mark Witt, quick tip, tips, writing