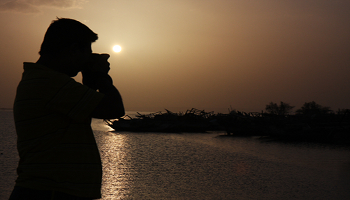 Images are everywhere – no matter if we look outside or in the darkest room.  Our mind still captures an image and stores it for future use.  Mental images are important because they allow for you to recall a person, place, or thing.  For example, when you're lost and you pass by the local movie theater twice, you know that you're going in circles.  In addition, mental images serve as compliments to what we hear, guides for our actions, and much more.  Images are essential to our lives…
…and our blog posts.
Blog post images don't serve as your guide for life but they do have a significant impact on your reader.  In order to be an effective blogger, you must know how to incorporate effective images into your writing.  Choosing not to use images or using ineffective images can hamper your progress and reputation as a blogger.
The good thing is that using powerful images effectively isn't hard.  It can be easily mastered and will make a difference in your blogging and your impact on readers.
Truth #1: Create linkbacks to your website.
On the Internet, stats and ranking are everything.  No matter where you turn, someone is talking about ROI or Google page rank.  Oftentimes, bloggers get tired of hearing about these things because they don't know how to increase their page rank or use ROI.  Let me in on a little secret:
If you want to increase your page rank, create linkbacks using your images.
It's pretty simple.  Whenever you pull an image from a royalty-free site, such as Flickr or stock.chng, leave a comment on the image saying that you used it for your blog post.  Be sure to include a hyperlink to your site and not just a passing mention.  The more you get your name and URL out there, the higher your page rank will go.

Truth #2: Choose relevant images.
Relevancy is probably the most important criteria for evaluating effective images.  As a rule of thumb:
If it's not relevant, it doesn't belong.
When you are browsing the 'net for images to include in your post, please pass on the images that do not pertain to your post.  Yes, that dog doing tricks might look cool but it has nothing to do with chemistry.  Your readers will most likely remember your post by your image.  If the image you choose doesn't match your topic, you're confusing the reader and chances are slim that they'll think about your post again.  Make it easy for them; choose relevant images.
Truth #3: Name your images carefully.
I think it's interesting to go through Google images and look at how many images use a naming convention totally unrelated to the subject of the image. (I know, I'm nerdy.) A majority of the time, the images are named using a word and then a string of numbers.  How is this effective?  It's not.
When you're uploading an image to your site for use, make sure you name it appropriately.  For the images at Folk Media, we usually name them according to our blog post.  So, the image you see above is named "four-truths-about-incorporating-images-into-your-blog-posts."  This creates a better page rank for our blog post and it helps us organize the images on our server.  Make sure to effectively name your images.

Truth #4: Don't be image happy.
Have you ever been to a website that is image happy?  Have you ever seen a blog post with an image before or after every paragraph?  It's annoying isn't it?  Yes, the images help the reader rest their eyes but they also distract the reader.  I don't know about you but I can't understand and remember an article if I need to look at 10 images in the process.

As a common courtesy, only use two or three images per blog post.
This does not mean full size images, either.  Keep your images small.  Remember, the images you include need to compliment the text.  They are not a replacement for words.  It is your job to deliver the message to your readers and your images are only supplementary to your words.

.


Eric Alpin is the Associate Editor of Folk Media and works for a telecommunications company in Baltimore, Md. He is a social media enthusiast, blogger, writer, and student with a passion for leadership and self-development strategies and techniques. Find out more about Eric on Twitter.



*Photo by ahmed76
Tags: Blog, Blogging, Blogs, Image Use, Images, Selecting Images