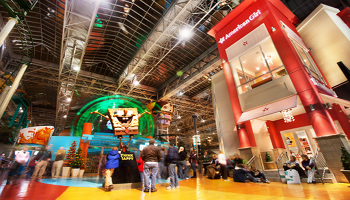 The busiest shopping season of the year is upon us. Many of you have finally completed your holiday shopping and others are just beginning. Heck, if you're like me, you haven't even started yet. No matter your current holiday shopping status, there is no denying that companies are going to make a boatload of money this month.
What's stopping you from getting in on some of that cash?
Sure, this article is a little sudden; it gives you no planning time and forces you to be quick on your feet. However, in the end, YOU are responsible for YOUR business and its revenue. If you decide to embrace the holiday madness, you might see that it works out well for you, even at the last minute.
So, let's make you some cold hard cash in four easy steps.
Customer Targeting
Not every customer is going to buy from you this year, but some will and we have to target those "some." Is that going to be one person or 900 people, I don't know, but I'm sure that there is a least one person who will be interested in your products or services as we wrap up the year. We need to focus on getting that person/those people. Let's call them the "targeted crowd."
What does the targeted crowd look like?
There are two kinds of people who do shopping and deal hunting during the month of December, those who are interested in getting the best gifts at the lowest prices for others and the individuals who want to find the coolest things for themselves. Your marketing strategy needs to appeal to one or both of these motivations.
Even still, not every person in that target crowd is going to spend money with your company but they're willing to listen. When they ask questions, you MUST answer; when they are on the fence about buying new gutters at a ridiculously low price, you NEED to sell them on it.
The spenders will be the people in the targeted crowd that really want it but need a little extra convincing.
Your Proposal
Now that you know the group of people you're targeting, how are you going to get them to buy your stuff?
Just like in The Godfather, you need to make him an offer he can't refuse.
The company with the best offers win on Black Friday and beyond. Period. Do you see hundreds of people lining up at the store which offers the hottest new toy at regular price? No, and that's because holiday bargainers want the lowest prices around or their trip is a bust.
Go low and stay low…but don't go into the hole.
Obviously, you have certain prices you need to match in order to come out in the black, so don't sell yourself, or your customers, too short.
Make reasonable offers that catch the attention of your targeted crowd. Marketing concrete services? Run and all-day special advertising that your normal $1,000 consultation fee will be waived for all contracts beginning today or the next week. Selling organic fruit and veggies? Make all of your products buy one, get two free AND at a reduced rate.
If a customer is on the fence about it, make an exception that won't be too unreasonable. Obviously, you can't give too much away for free or you'll go broke. Make offers that customers can't, or wouldn't be sane to, refuse.
Tying In Social Media
Everything up to this point may have been basic but here's the real question: how do you use social media to do all of this? Easy!
Check out a few ways you can utilize Facebook, Twitter, YouTube, and your blog to make out like a bandit this holiday season:
Facebook – Post PDFs or pictures of your sales and ads.
Facebook – Give Facebook only customers an additional discount on your products.
Facebook – Tell customers that if they buy a product and then write a review on the "Review" tab on Facebook, they get a special mail in rebate form.
Twitter – Send various tweets throughout the weeks with short specials (only and hour or two long) so customers are kept wondering what great deals are coming.
Twitter – Solicit your followers to send you Direct Messages with the price they're willing to pay for an item and give that price to the first five followers who Direct Message.
Twitter – If your followers answer a certain question or do a certain task, they'll get a certain amount off of your already low prices.
YouTube – Post videos of your products with a narration of how much you're selling it for during the month of December.
YouTube – Post a video detailing that if someone subscribes to your channel, they'll get a special free gift.
Blog – If a person subscribes to your email list today or throughout this next week, they'll be entered to win a free product or service.
Blog – Whoever comments on your blog on that day will get a certain amount of money off of your products or will get something for free.
Honestly, the possibilities are endless. You can offer SO MUCH to your customers through social media.
If you implement the information given in this article, you're practically guaranteeing some success on during the holiday season and beyond. Remember–customers want deals that are ridiculously appealing so give them. If you don't, you will never have the opportunity to build rapport and nab future sales and recommended clients.
Happy holidays to you!

.


Eric Alpin is the Associate Editor of Folk Media and works for a telecommunications company in Baltimore, Md. He is a social media enthusiast, blogger, writer, and student with a passion for leadership and self-development strategies and techniques. Find out more about Eric on Twitter.

*Photo by chrisschoenbohm
Tags: black friday, Blogging, Deals, Facebook, Holiday, Social Media 101, Specials and offers, Twitter, Youtube