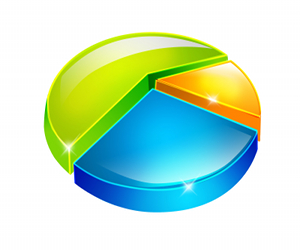 No matter your experience with web design, data measurement, or blogging, you've most likely heard of Google Analytics. To sum it up, Google Analytics (or Analytics as we will affectionately call it from this point forward) is a powerful tool that is used to measure various web site statistics, such as visits, number of page hits, and your most popular content. Basically, when you review your Analytics report, you can learn a lot about the functionality of your site and the people visiting it.
The only complaint that most people have about Analytics is that it takes too long to track down valuable data.  If you've interacted with Analytics before, you might even shy away from regular use because of the amount of time it takes to pull and process data.
After this article, time won't be an issue. In fact, you'll be able to pull and analyze your essential stats in less than five minutes. So, if you're like me, the tips in this article might allow you to have time to grab that tall mocha frap you've been craving before heading to your off-site web analysis meeting.
The Essential Data
Once you've logged into Analytics, you're going to want to pull the most essential information before anything else. This will let you find out the most information in the shortest amount of time. Here's a quick tour through the essential content you'll find in your Google Analytics stat sheets:
Visits: You can access your site visit stats through the summary screen that appears as soon as you load Analytics but you'll probably want to see it in more detail. To do this, select the report for your site using the "View report" option and click on the "Visits" link under the Site Usage section. This will allow you to see your visits by day and Analytics also tells you the percentage of total visits that came through on that specific day.
Pageviews: The number of pageviews your site receives is quite different than the number of visits. Pageviews are the number of pages that are accessed by your community, not the number of visitors to your site. Dividing these two numbers can help you find out how many pages are being viewed per visit. For example, if you have 2,000 pageviews in a month and only 1,000 visitors, it's safe to assume that on average, each visitor accessed two pages.
To pull your pageview data, simple click on the "Pageviews" option in the left menu bar. (It's under Visitor Trending.)
Visitor Loyalty: Knowing visitor and pageview stats are considered valuable information but they are nothing if you don't know your visitor loyalty. The visitor loyalty stat shows you the number of times a visitor has arrived at your site. Analytics breaks this down by number of visits, not user. This data will shed some light on how many people diligently visit your site and it paints a more accurate picture of your community.
The Visitor Loyalty data is shown by clicking the "Visitor Loyalty" option on the left side of the page.
Top Content: The last of the "need to know" Google Analytics information is your top content. When you have an understanding of your top content, you can begin to find themes in your writing and what appeals most to your audience. To find the top content for your site, navigate to the Content heading in the menu bar and select "Top Content." As you can see below, the top content for Folk Media revolves around how-to articles and DIY instructions. This is our niche and seeing our top content only re-enforces what we're doing.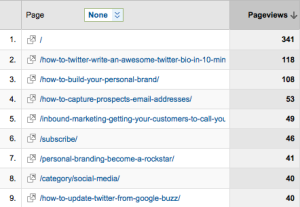 Other Measurables
The information outlined above is simply a starting place for you and your business. There are other things you can measure to dig into your site, your visitors, and how you're meeting their needs.
Some other information includes:
Bounce rate: The bounce rate listed on most of the pages represents the percentage of people who leave, or bounce, from your site after viewing only one article. In the content section of Analytics the bounce rate represents the percentage of people who navigated to another site after reading a specific article. The lower the bounce rate the better.
Average time on site or page: This one is pretty self explanatory and although it doesn't seem valuable, it can be very useful. When you see the average time listed, go to the specific page and attempt to read your content aloud and time yourself. Depending on how fast you read the content, you can judge how much information your users digested. If you read the article in three minutes but the average person only spent two minutes on the page, you can safely assume that they only made it through 66% of your content. What went wrong? Why did they stop reading?
Traffic Sources Overview: How your visitors get to your site is almost as important as their visit and the content they view. The good news is that Analytics show you how your visitors arrived at your site. Using the Traffic Sources Overview section (available on the menu bar under Traffic Sources), you can see if your customers are arriving to your site via search engine, direct URL, or referring sites. Once you have a grip on this data, you can push marketing and ad campaigns to appeal to a great number of your customers.
Honestly, the list goes on and on but since I told you that all of your information could be gathered in five minutes or less, that's all we're going to cover in this post. However, more information on Google Analytics will be arriving next week. I'd like to go over a few action steps…
Set up a Google Analytics account and download the Ultimate Google Analytics plugin for WordPress. The plugin will make it easy to link your site to Google Analytics.
After a few days, check out the information given for your site. See if any of your assumptions match up with the data shown.
Brainstorm other stats or data that you'd like to learn about. If you set up your account (which should be done since it was the first action step…) play around with what is measured. Email me any suggestions for future blog topics. We'd love to cater our content to you.
As always, please share this article via your favorite social media network.

.


Eric Alpin is the Associate Editor of Folk Media and works for a telecommunications company in Baltimore, Md. He is a social media enthusiast, blogger, writer, and student with a passion for leadership and self-development strategies and techniques. Find out more about Eric on Twitter.

*Photo by miamiamia
Tags: Analytics, bounce rate, data, eric alpin, Google, Google Analytics, pageviews, statistics, stats, top content, visits