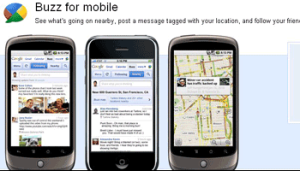 Google Buzz has certainly shaken up the social media world in the past week. It is estimated that Gmail (Google's email service) has over 100 million users. That a HUGE instant user base for Google Buzz since it is tied directly to Gmail.
If all Gmail users adopt Google Buzz it would instantly become the second largest social network in the world after Facebook.
And I think the mobile app that Google has built for Buzz will propel it forward faster than some might think. Introducing Google Buzz for mobile: See buzz around you and tag posts with your location.
For example, I'm running Buzz on my iPhone and it has some great features. (It is also available for the Android – visit Google.com/mobile/buzz for more details) It is a clean design that works very well on the iPhone. You can check your friend's status updates, comment on them and post your own updates.
Buzz also uses the iPhone GPS to find people who are posting near you geographically. I would really like to test out Google Buzz at a conference or event. I think it will do a great job connect people who are discussing the same topics in real time.
Whether or not Google Buzz is a major player in the social media space (and I think it will be) you should probably error on the side of taking some type of proactive measure. You can read my previous post about the action steps to take right now to be ready for Buzz to be a big deal for your business.
What are your thoughts on all this?
Follow Folk Media on Google Buzz
.
Joel Mark Witt is the Publisher of Folk Media and author of 21 Days To Twitter Leadership and How To Use Social Media To Find A Better Job. He is a producer, author, and speaker who consults with businesses and nonprofits on how to use social media in marketing and communications. Get more from Joel on Twitter or Google Buzz.
.

Tags: Friendfeed, Gmail, Google Buzz, Google Profile, Google Wave, iPhone, mobile, Twitter