Twitter is dead? I don't think so.
"Twitter is dead."
That's what I've heard some people say because of the new Google Buzz application. But here's the deal… Twitter is not dead… yet. Dismiss people who make wild claims about the death of any particular tool or application.
I'm loving Buzz. It's bringing the conversation to me… in my Gmail inbox … where I live most of the time.
My guess is that MOST people still live inside their inbox and Google Buzz will help them keep going without always switching to an outside platform. Before Buzz, you had to leave you email to visit Twitter and use the service, unless you had a primitive application like Twitter Gadget running inside your Gmail account.
What is Google Buzz?
Buzz is Google's idea to layer on a social network of sorts right inside your Gmail inbox. You can post status updates, long form messages, links, photos and even video. It is so new most people are still asking "what can it be used for?"
The upside
Google Buzz can be used to keep in touch with your friends, family or co-workers in real-time and broaden the private closed nature of email and chat to a public forum.
Simply put, it's kind of like making your chats and emails public (when you choose to) so that a discussion can ensue around them. You will still have your private email and chat for one-to-one communication, but this gives you another option.
I personally think the concept of status updates and public discussion might be easier to grasp with Google Buzz than it was for folks to get with Twitter. People are already used to email. They can simply experiment with Buzz as an extension of a tool they already know how to use.
By notifying you in your inbox each time someone comments on a Buzz posting, you are more likely to continue the conversation than if someone @replies to a message on Twitter.
Google Buzz will send you a notification email if someone comments on one of your Buzz posts, someone comments on another person's post that you commented on and someone mentions you using an @ symbol the same way they would on Twitter.
The basic features of Google Buzz include:
Automatic friends lists. Your friends are added automatically based on who you email the most.
Photo and video sharing
Advanced settings to seperate public and private messages
Plays well with Gmail. Makes it easy to keep up with conversations because of it's close tie to your inbox.
Recommendation feature will actually recommend people to follow and "learn" about who I'd like to connect with based on my comments. (a little creepy but what about Google isn't a little creepy these days… right?)
The downside
I can also see Buzz seeming TOO much like email and people feeling an obligation to go back and read posts in retro. That's how we use email. We feel compelled to read every message.
The beauty of Twitter and Friendfeed is that once the stream of information passes by you by it is easy to let the old messages go. You "dip in" the stream of information when you can. With Twitter you don't "archive" things to read later. It is a much simpler form of information flow.
Some people argue that everyone will now have to build up yet another network. But in reality, you've already built a network with your Gmail contacts… right?
Right now the only networks Buzz will import are:
Picasa Web
YouTube
Flickr
Twitter
Blogger
What Google Buzz will kill – or at least challenge
Is Friendfeed needed anymore?
Google Buzz eerily reminds me of Friendfeed. It pretty much replaces the basic Friendfeed functionality in my mind. You can comment on a post like Friendfeed. Other useful features include the abiltiy to reply privately to a post via email.
Stop waving and start buzzing
I think Google Buzz really puts a hurting on Google Wave. To me Wave felt complicated, awkward and lived OUTSIDE my Gmail inbox. Buzz takes the basic idea of Wave (the merging of email and Twitter), places it inside my inbox and makes it easy for anyone to understand.
Twitter growth could slow since it is virtually reduced to a distribution channel
Because Google Buzz incorporates so many elements of Twitter and does it inside a practical business tool (email), it could slow the growth of Twitter particularly those who are latecomers to the micro-blogging site. Think about it. A 45-year-old executive already uses Gmail and now has the ability to have public discussions and posts right inside the email application. Is there really reason to try and use Twitter for any more than another distribution channel?
The idea of Twitter being reduced to a distribution channel is dependent on Google Buzz allowing outbound communications. At the time of this post they only allow the importation of your Twitter feed INTO Buzz but not the other way around.
Here are your action steps to take right now
Set up a Google profile and make sure it's updated and ready.
All the Google Buzz posts will be displayed publicly on your Google profile. So it's a good idea to have your Google profile ready.
The big downside to a Google profile is that you HAVE to use your Gmail name for your vanity URL. For example, I've been using Gmail long before I decided on my Twitter username: @joelmarkwitt. So my Gmail account is simply 'joelwitt' making my Google profile URL: http://www.google.com/profiles/joelwitt
Every other platform on the web from Friendfeed, Twitter, Facebook, Flickr and and LinkedIn I've been using 'joelmarkwitt.' So, several months ago I registered a second gmail account with this username.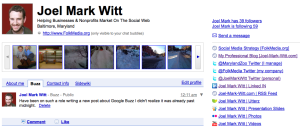 I suggest that you register the username you use for all your other online presence with Google. This way you can make it your vanity URL for a Google profile. Of course my big problem was that I had built up all my contacts and emails in your my original Gmail account. So I simply put a message on my 'joelmarkwitt' profile to point people to my "official" Google profile.
Start playing around with updates
This is the best time to start messing around with Google Buzz. Right now it is so new and everyone is experimenting with the application. Make a few updates. Comment on other's posts. Get your feet wet and begin to see how this can be used for your professional life or business. Speaking of business, rumor has it that Google will be rolling Buzz out to all their enterprise business users very soon – so it will be interesting to see how it can be used on an enterprise level.
Follow Folk Media on Google Buzz
Official Google Buzz Links
Introducing Google Buzz for mobile: See buzz around you and tag posts with your location.

.
Joel Mark Witt is the Publisher of Folk Media and author of 21 Days To Twitter Leadership and How To Use Social Media To Find A Better Job. He is a producer, author, and speaker who consults with businesses and nonprofits on how to use social media in marketing and communications. Get more from Joel on Twitter or Google Buzz.
.

Tags: Friendfeed, Gmail, Google Buzz, Google Profile, Google Wave, Twitter, Twitter Gadget