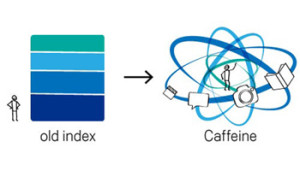 Google caffeine is here and could kill the old web
Google just released what it is calling Google Caffeine in an attempt to become more relevant with search results. In the olden days when you performed a web search you were served with relevant content that was old (a few hours or days depending on the content).
Now with Google Caffeine search results are going to be more relevant, timely and immediate.
Google Caffeine matters to your small business
With the release of Google Caffeine your small business needs to find ways to come up in the Google search results "in real time." This means that you will need to have content available in real time.
Twitter search has moved us in this direction. I posted about how to use Twitter search for your business to do market research. But what I didn't mention is that others are using Google search too. And your business needs to be in those real-time search results.
Real time search and Google Caffeine
Jeff Pulver calls the era we live in "the state of now." Things are happening so quickly and information is always new, fresh and constant. As a small business you MUST create and release content on a consistent basis to be found on the internet.
Your content (tweets, audio, video, blog posts and photos) needs to always be fresh and up to date.
How to change your mindset to a publisher
Most small businesses scream in protest when I suggest they begin to think of themselves as publishers of information. But it is true.
In order to survive the coming changes that will come from Google Caffeine, Twitter, Facebook, Foursquare and other online platforms – your business will need to PUBLISH content.
Start thinking of yourself and your staff as journalists. Your one assignment is to "cover" your own business. Look for all the information that can be used to tell your business story – just as if you were writing for the newspaper. Except this newspaper you write for is your own.
In the coming weeks we are going to delve deeper into this idea of small business publishing and content creation. We are working on developing a system and blueprint for small businesses to use that will make content creation easy, simple and automatic.
Today's action step
I would recommend you read the full article on Google Caffeine. This will give you some insight into how Google is changing the way they search for your content online. More changes are coming and it is critical that you stay on top of these in the near future.
Online change happens very fast and it's hard as a small business owner to keep up. For this reason – it's important that you stick with us as we walk you through using social media and internet marketing to grow your business and double your sales & leads.
Subscribe to "The Folk Media Insider" and you'll be on the list of those who take small business serious and want to get more customers. Plus it's free.
Now go take action.
.
Joel Mark Witt is the Publisher of Folk Media and author of 21 Days To Twitter Leadership. He is a producer, author, and speaker who consults with businesses and nonprofits on how to use social media in marketing and communications. Get more from Joel on Twitter or Google Buzz.
Tags: Google Caffeine, Joel Mark Witt, real time web, the state of now, twitter search