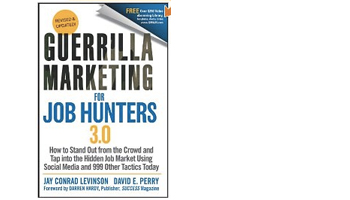 Guest Post Written By Sarah Wehrle
When I first became unemployed and discovered finding employment wasn't as easy as I had previously thought, I had no idea what I was doing wrong. I had two interviews at the very beginning and then absolutely nothing for a couple months. Finally I read in a magazine that one reader had scored a position by following advice from a book on Guerilla Marketing.
I decided to try it out and bought, "Guerrilla Marketing for Job Hunters."
I was introduced into the world of unconventional tactics for finding a job. Through it, I discovered I wasn't utilizing a very important tool in career networking – Linkedin.com.
I got my free account and found all the people I could think of to connect to. I joined a group of "open networkers" (people to will connect to anyone), and I resumed searching for employment.
After being a member for about a month, I came across a position I was really excited about. I sent my resume and information via the company website as well as by fax and email. I didn't hear anything for a couple days. As usual, I wondered what to make of it.
I consulted my book and found my answer. Through the linked in "Company" and "People" search bar, I searched the company name and found several employees that worked at the location I had applied for.
My position was in marketing, and I decided to contact another employee who was in the marketing department, although she worked in a different specialty.
Using the "Send a message" option, I sent her the following message:
"Hello. I'm going to apply for a marketing position with Aon in Columbia, MD and was wondering if I could get feedback from you regarding how you feel about being employed there. (Confidentially, I promise) I'm trying to do my research and found you on linkedin as an employee. "
I wasn't fully expecting a response, but I got one. She described how she felt about the company and how closely she worked with the person whom I would be replacing. I also got a very important bit of information from her:
"One last thing, earlier today our corporate office in Chicago announced that Aon purchased Hewitt, a major competitor. At this time, it is unknown how this will affect our office as Hewitt has an office in Hunt Valley. The deal is expected to close in November. We expect that major changes will not happen for at least another year but no one really knows."
She also encouraged me to contact her again if I had any further questions. She told me to send her my resume and she would be sure to pass it along once her boss came back from vacation. (You never know where your online applications really go-I'm sure many are overlooked or set aside only to be forgotten) I sent her my resume and waited two full days after the date she had given me. Nothing. I contacted her again.
She had forwarded my resume, but she had bad news:
"We just found out there is a hiring freeze with the impending merger. We have no idea how long it will last. It obviously isn't good news for us since we were really hoping to fill this position. At this time there is nothing my boss can do – we're keeping our fingers crossed that the freeze is lifted sooner than later."
Contacting her did several positive things for me:
I learned of the merger from a direct source. Having just suffered a layoff due to a merger, this was valuable information for me. It ensured my resume was received by the correct person and I learned approximately when they would have it. This gave me a window of when to expect to hear back.
I connected with a useful employee. Had I been hired, she'd get a bonus for referring me, and I would have had an easier time working my way in thanks to her information and help.
If the situation changes, I'll be relatively fresh in the minds of at least two people directly involved with the position. This very well may work to my advantage if I am still unemployed.
Overall, I'm glad I took the step to make contact, even though the position didn't pan out.
It certainly didn't hurt. I have a feeling I would have never known why I didn't hear back. Thanks to linkedin, I know what happened.
.

Sarah Wehrle is a lifelong Maryland resident who specializes in marketing, communications and graphic design. Her interests range from animal health to art and music. She writes on the subjects of mass communication and gardening in her blogs and updates the newsletter for the Montgomery County Foster Parent Association as a volunteer. She enjoys reading, hiking and spending time with her family and pets.
Tags: book review, Guerrilla Marketing for Job Hunters, LinkedIn, Sarah Wehrle