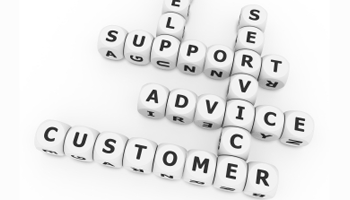 By Adele Berenstein, Customer Satisfaction Specialist.
Why tune in to your customer feedback?
In today's competitive world, a company's reputation for satisfying clients is one of the key factors in whether or not someone will buy from them. For Non Profit organizations, the social, economic or political mission is key but so is the proof that the money and efforts being provided are having a positive effect.
From the perspective of a company's management, customer satisfaction is all about improving revenue, reducing costs and increasing profit. For non profit organizations, sustaining and growing the list of donors and increasing the donations per subscriber are all affected by the satisfaction with your organization or mission..
With today's internet technologies, unhappy customers and donors can be much more visible than in the past, using social media sites, complaint sites and blogging and micro-blogging sites and Google's new feature called Sidewiki.. It has never been more important for any organization to focus on customer satisfaction strategy and techniques than in today's environment.
What is changing ?
The methods of providing of customer / donor feedback is changing.
In the old days, when I worked for IBM, the feedback on 'how is our organization doing for the customer' took the form of doing surveys and ensuring good customer service.
Customer Satisfaction Surveys were conducted and tabulated and reported, monthly, quarterly and annually. Reporting often took place weeks and months later due to exhaustive analysis that was done on the data. Then a summary report was prepared and reviewed with different levels of management for possible corrective actions.
Customer Service metrics (responsiveness, first time fix, complaints and critical situations) were reviewed and reported – monthly, quarterly and annually. Actions were taking to improve any issues found.
Today, in addition to survey feedback and customer service feedback, the web is providing feedback, IF organizations are listening. Blogs, social media sights such as Facebook, LinkedIn, MySpace, YouTube and Twitter and some key sites. In addition consumers can Vote on what they like and don't like when created by others using sites like Digg and Delicious.
The Speed of Feedback is changing.
The monthly, quarterly and annual reporting of customer satisfaction data has been replaced by daily and hourly feedback. In some cases, companies have found themselves needing to respond on the weekends and have been criticized by taking a full day (from Sunday to Monday) even when the response from the organization was satisfactory. Some companies are moving towards integrating platforms such as LivePerson support to interact with the customers in real time and smooth over issues before they can escalate.
The Nature of the Feedback is changing.
In the past, feedback was often structured. Surveys asked specific questions and led the customer to provide feedback on subjects the organization felt was important. Customer service was measured by coding the cause of the service call or the result, the volume or calls, response time ,and time to resolve issues. In short, the organization controlled what it wanted to hear as feedback. With social media, the customer or donor owns the subject of the feedback and therefore the conversation with the organization.
Customers or donors are providing feedback in 3 key areas.
Product Problems: customers having difficulty with a product or service.
Product or service improvements customers would like to see in the future
Better ways to market, sell, support or communicate with customers./ donors
How to get started with Social Media
Start Listening.
There are many tools to find out what is being said about your organization and your key executives. See my blog post on different tools what they do.
Engage Executives
Be prepared to react and know how to reach executives quickly if something seriously damaging emerges in the listening.
Set some policies and processes on reacting.
Remember customers will be watching for your reaction. Being on the sites where the customers and donors are communicating and responding appropriately builds trust and shows you care.
Review progress and adjust regularly
Most companies are in the infancy on how to handle social media so it is important to take a learning attitude and regularly review progress and best practices in the industry.
What activities do to first?
Decide to invest some resources and time on the new Web Technologies.
Get Educated: The top social media sites are Facebook, Twitter, Linkedin and Youtube. Invest in some education on these key sites. See what they do.
Start Listening to your stakeholders.
It is also important to search for the best customer experience management system to increase customer satisfaction within your company.
.

Adele Berenstein, a Customer Satisfaction Executive with over 19 years experience at IBM , responsible for  the ensuring high levels of satisfaction of SW and Services customers primarily in large accounts. Prior to her roles in customer satisfaction, Adele had extensive experience in Sales, Marketing and Teaching, also at IBM,in Montreal, Quebec, Canada, Toronto, Ontario, Canada and Boca Raton, Florida. Currently based in Toronto, Canada, retired from IBM,  Adele is currenlty consulting and teaching,  Adele also shares her experience in customer satisfaction. reputation management and  customer service on her blog at http://www.satisfactionsecrets.com. You can read her full resume on Linkedin at  http://www.linkedin.com/in/adeleberenstein. Adele can be contacted at adele@satisfactionsecrets.com
.
Subscribe to the Folk Media Insider eNewsletter. It's a free newsletter packed with tips, tools, strategies and resources to take your business to the next level online.
Tags: customer service, Social Media 101