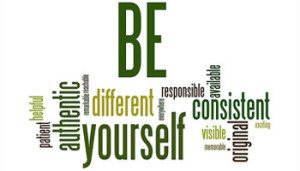 Personal branding seems to be the hot topic these days. If you are a small business owner or a sole entrepreneur, personal branding can be very powerful for you.
Personal Branding
This concept of personal branding started with a guy by the name of Tom Peters who wrote about "Brand You." He argued that employees need to see the new economy in terms of developing themselves as a brand just like Donald Trump, Tiger Woods and Oprah.
The goal is not to become as big as Oprah with your own media empire (although that would be nice). Instead, you want to become a rockstar in your industry or business sector. You literally create a persona that attracts people by becoming a "personality" rather than just another product or service provider.
I'm not talking about branding your business. I don't have much use for branding when it comes to small businesses. Unless you have millions of dollars to spend on Superbowl ads and expensive icons (think Geico), you should avoid general branding like the plague. For your business focus on direct response marketing instead.
Although I'm down on small business branding I do recommend personal branding. It is something that you can do little by little each day. In my mind branding yourself comes down to consistency. Consistency in what you stand for AND consistency in doing the activities that will morph you into a brand.
Why personal branding is so powerful
For those who slave away at a desk job, personal branding is important because NO ONE that you work for or with is looking out for your best interest. When you leave your job (or get laid off) having a strong personal brand will be the bridge that helps you land your next gig.
If you are working in your own small business, you have to differentiate yourself from your competition. You may not have more money, a bigger ad campaign or even better sales people working for you. But you can develop and cultivate a personal brand that will "rub off" on your small business and employees causing you to rise above your competition.
If you are still not convinced, consider this… you are being Googled. Potential cusotmers, potential employers, even potential lovers are entering your name in Google and finding out about you in advance. So your online personal brand is your first impression.
My question is …what kind of first impression are you making?
How To Take Control Of Your Personal Brand
Become a trusted adviser and expert by knowing your subject matter. You must know your industry. A simple Google search can yield thousands of news articles, websites and resources that will allow you to stay in the know.
I recommend setting up a free Netvibes account to keep on top of it all. You need substance more than style. But more importantly, after you are in the know, you should become a curator of content and the go to source for others.
Become a person of value by giving away value to prospects and customers. By freely giving away value, you are building up goodwill with those people who are starting to see you as a rockstar. Learn to influence others by giving of yourself.
Become a rockstar and command the attention of your industry and your customers. This comes from other people giving you social proof. By cultivating even a small following you are laying the framework for a larger following. In order to do this you need to be visible.
Imagine your brand
What would your business look like if you actually worked on developing your personal brand? Imagine being able to walk into a room and command the attention of people in your industry. Imagine your online article or blog posts being read by potential customers making them hungry to do business with you. Building your personal brand can be the difference between struggling in business and achieving amazing success.
Today's Action Step
As you begin to develop your personal brand – take out a piece of paper and spend the next 10-20 minutes answering these questions.
What makes you different from other people who might have a similar background?
What is it that makes people what to work with you? (What attitudes, knowledge, skills and abilities do you already have or are developing)
List out the value that you can create and give away to others. Be specific and list three things.
At the end of the day – what gets you excited and fulfils you? What type of person do you imagine yourself being?
This article is part of the Internet Marketing Basics series where we cover the fundamentals of internet marketing and social media.

.
Joel Mark Witt is the Publisher of Folk Media and author of 21 Days To Twitter Leadership. He is a producer, author, speaker and social media marketing coach who consults with businesses and nonprofits on how to use social media in marketing and communications. Get more from Joel on Twitter or Google Buzz.
*Photo by stefano principato
Tags: Internet Marketing Basics, Joel Mark Witt, Personal Branding