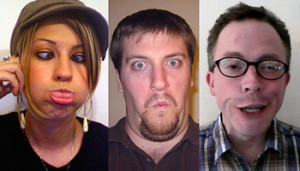 Profile photos are everywhere online. We see them on Twitter, Facebook Linkedin and other social media sites. By participating in social media you will need a good profile photo.
Your profile photo is literally your online face
Most profile photos are of faces and in reality this is your "face" online. It's the way you present yourself. The type of shot – how close it is – and the background all communicate important aspects of your character, your personal brand and the business you represent.
What is a good profile photo?
A good profile photo shows you. It's best to put your "best face forward." Using a clear head shot is one of the best strategies. It's the same as walking into a room of strangers. If you smile, look confident and appear easy going you'll get better results.
Steps to a good profile photo
Here are a few tips on choosing the right profile photo.
Eye contact
Make eye contact with the camera lens. You can tell a lot about a person by looking into their eyes.
Just your face
For most online profiles it is a waste to select a full body shot. Social media sites shrink down the image to a thumbnail size which will make it very difficult for others to see your face. Instead – simply crop in on your face.
Square formatting
Don't forget that most social networks will automatically crop your photo from a rectangle to a square. If your photos doesn't have enough space around the edges parts of your face can get cut off.
Today's 10 minute action step: Find your perfect online profile photo
Spend the next 10 minutes going through your digital photos. Find the ones that will crop down nicely to a square, show off a big smile and eye contact. Remember – this is your first online impression.
Now go take action. .
Joel Mark Witt is the Publisher of Folk Media and author of 21 Days To Twitter Leadership. He is a producer, author, and speaker who consults with businesses and nonprofits on how to use social media in marketing and communications. Get more from Joel on Twitter or Google Buzz.
*Photo By madmolecule
Tags: avatar, Joel Mark Witt, profile photo