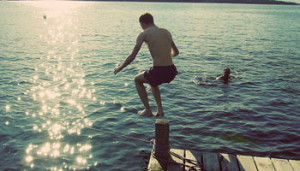 Okay gentlemen – most of the women reading this will nod their heads in agreement when I say…
Commitment is good
Now before all the guys out there panic and start running – let me clarify what I'm talking about. In the world of marketing and business it is a good thing to get your prospects to commit.
The goal is to entice prospects to give you their contact information. One of the easiest ways to do this is to ask for an email address.
Getting a visitor's email is the single most important goal for your website
I keep talking about email capture again and again because it is THAT important to your social media and online marketing. When you get a prospect's email, you get control and permission.
An email address gives you control of the marketing relationship. If you are relying on prospects to return to your website later on their own – you're delusional.
In defense of prospects world-wide, it's not their fault. They simply can't keep up with the fire hose of information coming at them every day. Most people will welcome relevant and helpful emails targeted to meet their needs. Deep down, prospects want you to have control of the marketing relationship so they don't have to think.
An email address also gives you permission to follow up. Each time a prospect subscribes to your email list – image them standing in a crowd raising their hand and saying… "I'm interested in your products and services." They are giving you permission to market to them.
A few tips on getting emails from your prospects
Be sure to have an email capture form on your website. The solution we use is Aweber. I've written a lot about using email opt in forms here and here.
When using an email capture form – be clear on the value that you will provide in return for a prospect email address. Offer to give them a free report, video, download, coupon, etc.
Many smart marketing professionals create print ads that send prospects to landing pages with email opt in forms on them. This is a great idea. The problem is – when prospects visit the web page many won't enter their name into your email list. A better option is to provide an email address that prospects respond to that will automatically subscribe them to your list. This will result in 100% opt ins.
Imagine your business as a lead capture machine
Imagine the cycle of success you will create by inviting prospects to commit by giving you their email address – which in turn gives you permission and control in the marketing process.
With a solid email list you can alert people (who have already committed to you that they are interested) with new products and services.
Just think of the cost savings! By building an email list you are building a future database of potential customers.
Don't forget that people value their emails. You can't abuse the relationship with your prospect. Continually offer value in your emails. Look to improve the lives and businesses of your potential customers.
Today's Action Step
Get signed up for an email service provider and place an email capture form on your website or blog. Make it enticing for prospects to give you their email address by giving away something free in return for the address.
.
Joel Mark Witt is the Publisher of Folk Media and author of 21 Days To Twitter Leadership. He is a producer, author, speaker and social media marketing coach who consults with businesses and nonprofits on how to use social media in marketing and communications. Get more from Joel on Twitter or Google Buzz.
*Photo By Pacopus
Tags: aweber, Email, Internet Marketing Basics, Joel Mark Witt, lead capture, online lead generation, Prospects