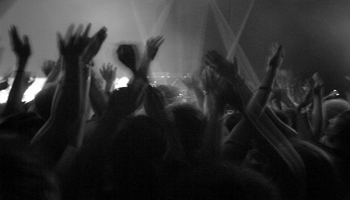 In the first two parts of this series, we discussed growing your tribe through knowing and believing.  If you don't know yourself, your potential tribe, and the goals of the tribe, you won't have a solid foundation for a productive and active community of followers.  Believing in yourself and in your tribe is essential – without belief, no one will trust you or become a part of your tribe.
The next step to growing your tribe is to build a community.  A community is not just a band of believers or people with a common trait; it is an inspired group of people willing to spread your message without hesitation.  One you have built your community, your tribe will take shape and will begin to grow.
There are three action steps for building your community – establish a medium of interaction, connect, and get out of the way.
Your Medium of Interaction
Before you can establish your tribe, you need to decide the primary method of communication between tribe members.  If you do not have a predetermined method of communication, your tribe will not be able to function as a community.
With the advancement of technology, it's fairly easy to say that you'll use the Internet as your medium of interaction.  Before you slate the Internet as your definite source of communication, ask yourself the following questions:
What aspect of the Internet will my tribe use?  Social networking websites?  Blogs?  Forums?  Email distribution lists?
Is the Internet really the best form of communication for my tribe?  Is my tribe localized enough to meet in person?  Would conference calls be sufficient for tribe members?
Make sure you thoroughly contemplate the best mode of communication for your tribe.  The method of communication plays a big part in spreading the word about your movement.  Your tribe may evolve to incorporate two, three, or four mediums for interaction.  But, does your tribe need more than one way to communicate in the beginning stages?
As with many other aspects of growing your tribe, there is no right or preferred method of interaction.  Every tribe, and every leader, is different.  No matter what you choose, make sure it meets the needs of your tribe.
Connect
Connecting is a vital part of building a community.  When you connect with others, you acknowledge your mutual bond or interest.  Connections spark a community.  When people feel truly connected with one another, great things happen.
On page 23 of Tribes, Seth Godin states, "Great leaders create movements by empowering the tribe to communicate.  They establish the foundation for people to make connections, as opposed to commanding people to follow them."  As a leader, you must connect with your tribe and encourage members to connect with one another.
If you're looking for a ten-step plan to help you with connections, you aren't going to find one here.  Since we have already established that each tribe is different, we must recognize that there is no surefire way to connect people.  Yes, there are popular and preferred methods but nothing is guaranteed.
Although I won't be outlining a foolproof connection road map, I will give you a few questions to guide you as you begin to connect with your tribe.
Can I use my preferred medium of interaction to connect to my tribe?
How will tribe members connect with me?
What processes need to be in place and what barriers need to be broken in order to allow tribe members to connect with each other?
How will I keep track of the connections that are made?
How will I encourage connection between tribe members?
How much time should I dedicate to connecting with my tribe?
Connecting is one of the most rewarding aspects about being part of a tribe.  Connection allows for the tribe to freely interact with one another and serve as a role model for people interested in your tribe or becoming a part of another tribe.  Connect with your tribe.  Allow for members to connect with one another.  It's a staple of your movement.
Get Out of the Way
Out of the three parts of building a community, you'd probably say that this step is the least necessary or the one that doesn't matter.  Contrary to popular belief, stepping back from your tribe is a very important step in the community building process.
Imagine this: your boss assigns you to a new project.  She tells you to assemble a team of five co-workers and begin immediately.  You assemble your team and begin to work.  Although you're keeping her informed and asking questions when necessary, she always comes to you and checks in on the status of the project.  She makes sure you're using the right resources, typing the right information, and meeting deadlines.  You can't get any work done without her being over your shoulder.
See what it's like when you don't step back from your tribe?  You smother your followers, restricting communication and lowering trust.  You actually slow progress when you don't know when to back off.
This step isn't a free pass to forget your tribe.  That isn't the case at all.  There is a fine line between stepping back and walking away.  When you get out of the way of your tribe, you are entrusting them to take initiative and will help along the way if necessary.  Walking away signifies that you don't want to lead your tribe any longer.
Stepping back builds the character of your tribe members and leads to a stronger community.  When you micromanage and constantly bombard your tribe, you hurt their movement.  As Godin states, "Deciding to lead, not manage, is the critical choice." (pg. 52)
Building a community allows for you to meet the needs of your followers and enables them to grow inside and outside of the tribe.  Building a strong community will this show that you are a great leader and it will inspire you to continue expand your community.  Remember, the size of your community doesn't matter; it is the connection that counts.
When building your community of followers, keep in mind what really matters: "Growing a tribe of committed, talented people who are spreading a message of empowerment, respect, and growth." (pg. 26)

.


Eric Alpin is the Associate Editor of Folk Media and works for a telecommunications company in Baltimore, Md. He is a social media enthusiast, blogger, writer, and student with a passion for leadership and self-development strategies and techniques. Find out more about Eric on Twitter.



*Photo by
Tags: Building, Community, Growing, leadership, networking, Seth Godin, Tribes