It sounds counter-intuitive but giving people an option to UNSUBSCRIBE from your email can actually increase the value of your list.
But first… something funny.
I signed up for Groupon a couple weeks ago. Pretty neat company. They send out regular deals for metro areas around the US. But it seemed like I was getting a deal a day and I was starting to get overwhelmed by them.
So I unsubscribed from their newsletter.
And then I re-subscribed.
Why? Because they made me laugh. Let me explain.
After you unsubscribe you land on a page with a video. It says, "We're sorry to see you go! How sorry? Well, we want to introduce you to Derrick – he's the guy that thought you'd enjoy receiving the Daily Groupon email."
Then underneath the video is a button that says "punish Derrick."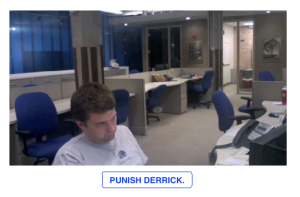 When you click it a guy walks around the corner, starts yelling and throws a cup of liquid in Derrick's face to punish him.
Caught me off guard I might say. Big time. But you know what? When the message came up and said "That was pretty mean. I hope you're happy. Want to make it up to Derrick? Resubscribe."  I clicked resubscribe.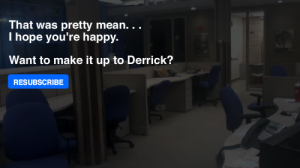 This was obviously a staged video that has nothing to do with me personally and yet – I felt guilty for putting Derrick through his punishment. And Groupon kept me as a subscriber.
You can see the video for yourself here.
By the way – don't do this for your company. It's probably not a good fit. Just saying.
The unsubscribe link
This is the small link at the bottom of an email that literally says unsubscribe. When your business uses automated software to manage your email subscribers this is automatically part of the message.
Having an unsubscribe link makes good marketing sense
Many marketers resent having to give prospects the option of opting out of email newsletters. But I think it is a good thing for your business. First, you are staying compliant with the laws. In the United States we have very specific laws governing email spam. By having an easy way for your readers to unsubscribe you are keeping your company compliant.
And even if it wasn't the law, it makes sense to remove prospects from your list who don't want to hear from you. Email marketing is very inexpensive, but there still is a cost to managing and sending large amounts of email.
By clearing out subscribers who are never going to buy from you, your business will be able to that much more target the leads that will.
Make a big deal out of your opt out policy
If you notice on our main Folk Media site we make if very clear that you can unsubscribe from our list at any time. This puts our subscribers at ease knowing that they have the option to cancel their subscription if we stop providing them value.
But there is another subliminal message that this communicates to yourself and staff. You had better "provide the goods" and deliver value or you won't keep your subscribers. And your subscribers are very important to your business. They are the lifeblood of your online marketing.
Today's action step
Two things today. First, put language on your opt in form that says something like "We hate spam as much as you do and will never rent or sell your email address to a third party."
Second, make sure your email service provider has a link at the bottom of your emails making it very easy for folks to opt out.
Now go take action.
.
Joel Mark Witt is the Publisher of Folk Media and author of 21 Days To Twitter Leadership. He is a producer, author, speaker and social media marketing coach who consults with businesses and nonprofits on how to use social media in marketing and communications. Get more from Joel on Twitter or Google Buzz.
*Photo by incurable_hippie
Tags: CAN SPAM, email marketing, Joel Mark Witt, opt in, opt out