Why Retweet A Message
A good way to pass along good stuff to your followers
If you are having trouble coming up with original posts and content for Twitter, consider forwarding other's Tweets along to your followers. In this scenario you act as a filter for mass amounts of content and are sharing the most valuable stuff. You will still be seen as a leader in your industry for pointing out valuable information to your followers.
This is a great way to get started with content for your followers without actually having to create. Of course the eventual goal is to eventually create your own stuff. But this is a good way to get started.
A good way to make friends
When you pass along a message in a retweet, you show up in the @mention area of the person who wrote the original Twitter post. This is a great way to make friends with other people. When they see you forwarding their posts to your network, they can't help but take notice. Don't be surprised if you gain them as a follower.
Way to distribute breaking news to your network
If you follow a lot of people on Twitter you will inevitably get breaking news the moment it happens. If Michael Jackson dies, for example, you will be able to forward that news to your followers keeping them in the loop. This type of breaking news is even more important when it has to do with your industry or business.
What Is A Retweet
Like forwarding email
When you receive an email that you would like to pass along to others you press the forward button and choose a recipient. With Twitter you can also forward messages to your followers. By simply placing the capital letters RT (this stands for retweet) in front of the message you are "forwarding" a message. Now all the people following you will see this post.
This can be used to:
Show other people you value their message by passing it on
Redistribute breaking news to your personal network
Keep interesting content flowing without having to personally write anything
Labeling the retweet
To make a retweet you simply copy the original message and add the capital letters RT in front of the person's username.
Here is an example of a retweet: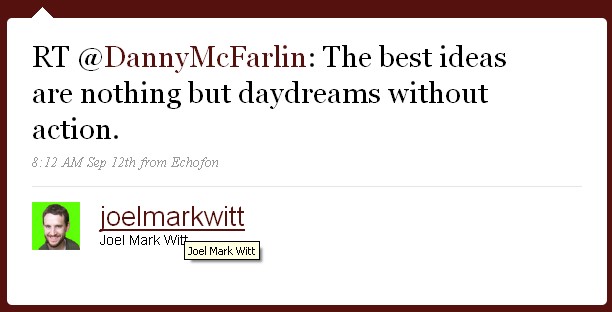 How To Retweet
Copy and paste the original message
It is simple to retweet a message. Simply copy and paste the original message into the update box on your main Twitter page. There are programs that will do this for you – but for the purposes of understanding how this works we will go over the manual process here.
Add the person's @name and RT to the front
After you've pasted the message add the capital letters RT and the person's username who made the original post.
RT @JustinKownacki ORIGINAL POST MESSAGE IS PASTED HERE
Click update
That's it. You've now retweeted a message. Now all of your followers will see this message.
Remember, the retweet is to supplement your original Twitter messages that you post. Don't only send retweeted messages. Be sure to add them in with original content.

.
Joel Mark Witt is the Publisher of Folk Media and author of 21 Days To Twitter Leadership. He is a producer, author, and speaker who consults with businesses and nonprofits on how to use social media in marketing and communications. Get more from Joel on Twitter.
.
Get the book "21 Days To Twitter Leadership" The Step-By-Step Guide On How To Twitter, Get Twitter Followers And Position Yourself As The Leader In Your Industry In Less Than 10 Minutes Per Day.
*Photo By debh2u
Tags: how to twitter, retweet, twitterleadership