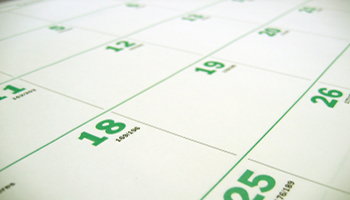 If you're familiar with tools such as TweetDeck, EchoFon, or HootSuite, you've most likely encountered the ability, or at least heard about it, to schedule tweets. For those of you unfamiliar with the process, these Twitter profile managing tools allow for a user to compose a tweet and then decide what time it will hit the 'net. For example, if I wanted to wish my followers a happy New Year but would be at a networking event on New Years Eve, I could schedule a tweet to post at 11:59pm on 12/31. As you can see, this would be very useful to someone who has a strict schedule but still wants to remain engaged with their followers.
You thought that was good? It gets better.
With one of the latest versions of HootSuite, users are now able to schedule up to 50 tweets at one time instead of having to enter and schedule each post manually. Basically, a ton of legwork is removed and people can be more efficient with their posts and time management.
Interested? Read on. Interested and not using HootSuite? Go sign up today and then read on! (Author's note: It's well worth it!)
Here are the step by step directions to bulk scheduling your tweets using HootSuite:
1. Open your spreadsheet program (even Google Docs will work for this) and save your document as a CSV file (.csv extension) with a descriptive name.
2. In column A, enter the date and time that you'd like to schedule a tweet. In accordance to HootSuite protocol, it needs to be at least five minutes from the time you'll be scheduling it. Enter it in dd/mm/yyyy hh:mm format. For example… 31/12/2011 21:59 (Depending on the autoformat rules of your program, it might reformat the date for you. If this happens, simply right format the date back to the desired format using the Format Cells option.)
3. Next, enter your tweet text in column B on that same row. The message can be no longer than 135 characters (no link included in the tweet) or 115 characters (link included). If you are including a link, you don't need to include it in this cell; we'll get to that next.
4. If you are attaching a URL to your tweet, place it in column C. You don't need to send it through bit.ly or ow.ly beforehand; the HootSuite Magic Scheduling Tool Thingy will do that for you.
It's really that simple! At this point, we're going to import our one tweet into the bulk scheduler so you can see how it's done. Obviously, if you'd like to do 49 more, you can but since I don't want you to read those four steps 49 more times on this blog, I'll cut to the chase.
5. Log into HootSuite and click into the Compose Message… window. Select the Schedule Message icon at the bottom of the window and then hit Schedule In Bulk.
6. Find your CSV file on your computer or network and then select the Twitter profile you'd like to have the tweets scheduled under. If you're using Google Docs, just hit ".csv file" from the Download As… menu just find that file on your computer. Warning: Be SURE to select the correct profile if you have more than one. I've made this mistake before and, unfortunately, there is no "Unschedule Multiple Tweets" button in HootSuite. Be triple careful!
7. Just hit Submit and you should be rockin' and rollin'! If HootSuite doesn't like something, it will spit it back to you and give you a descriptive (shocker!) error message. Fix what needs fixing and do step six again.
Again, it's that simple! I have found that this saves me about four to five hours in a week. It's great what you can do with this tool. Kudos to HootSuite for making it available and kudos to you for reading this article to figure out how it's done!
Questions? Problems? Just let us know!

.


Eric Alpin is the Associate Editor of Folk Media and works for a telecommunications company in Baltimore, Md. He is a social media enthusiast, blogger, writer, and student with a passion for leadership and self-development strategies and techniques. Find out more about Eric on Twitter.

*Photo by shadowkill
Tags: eric alpin, hootsuite, management, managing, schedule tweets, scheduling, Tweets, Twitter