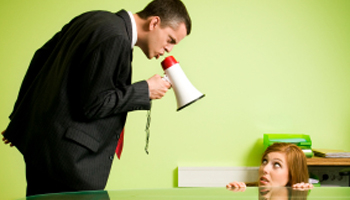 With all the buzz around Twitter and social media, I amazed to see some business people and non-profit organizations still asking "should we blog?" For most businesses, that's like asking "do we need a telephone?" I will be the first one to say that blogging is not for every business. Your organization may not benefit from using online tools like blogs, Twitter, or social media. But your interest in reading this article  indicates your desire or need for a blog in your business or non-profit.
If you haven't set up a blog for your company – the time is now. But what do you do if you have to sell the idea to your boss or executive team? Here are a few ideas on how to make this selling process easier. Consider the following "evidence" to use in your pitch.
But wait. Before you get to your pitch – your first goal is to set up a test blog where you can show some results. I know a few marketing pros who actually set up a free blog (using Blogger or WordPress.com) without their boss knowing. They made the blog industry focused rather than company specific and were then able to collect data in order to make a compelling case for an official company blog.
Metrics
Metrics are key to showing your boss the value of blogging and social media. There are many tools that you can use to track visitors to your website – Twitter click through rates – and online mentions. I would recommend using Google Analytics to track your visitor stats. Use Tweetbeep.com to track when you are being mentioned on Twitter. For tracking actual Twitter link clicks, Hootsuite is the online app we are currently using at Folk Media.
Feedback
Imagine having a superpower that let's you listen when people talk about you behind your back. It is possible. Sites like Twitter Search and Google Alerts allow you to do just that. It is easy to work up searches that show your boss the platforms people are using to talk about your organization or business.
Highlight some key organizations who are blogging
What happens if no one is talking about your business? Show your boss the competition. Search for competitors and industry leaders to show how these companies and people are getting and using feedback online. There is nothing like good old competition that will motivate bosses at any level.
Engagement
Don't forget – social media is more about engagement than numbers. You may launch your official company blog and end up with low click through rates.  But the people who are visiting may tend to be targeted and more valuable. Plus when your audience is engaged, they end up becoming long-term readers and customers. It is important to explain this to your executives. Success in online social media takes time and investment.
Your biggest role as "social media champion" for your business is to educate those around you. They may not understand the power and value of social media like you do. You need to give them statistics, examples, case studies, and proof that social media is not a waste of time. In fact, in the current economic climate, social media may end up saving many businesses who can't afford to advertise like they once did. Who knows – maybe you'll be the hero who took some risk and saved your company. That's worth a raise and promotion – right?
What do you think? Anything to add that I've left out? Comment below or follow us on Twitter.
.
Joel Mark Witt is a producer, speaker, and new media leader who writes about social media and its impact in the business world. He is also the Founding Director of Folk Media. Send him an eMail: joelmarkwitt (at) folkmedia.org or follow him on Twitter.
* Photo by iStockPhoto
Subscribe to the Folk Media Insider eNewsletter. It's a free monthly newsletter packed with tips, tools, strategies and resources to take your business to the next level online.