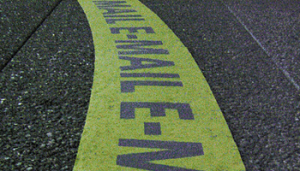 You need your boss to buy-in
Email is an investment
Invest in email marketing. With email you can drastically reduce your postage fees, reduce the time you spend calling prospects and clients and you are able to automate many of your marketing processes which saves staff time. In order to spend the money to invest in email marketing, your boss has to be on board.
Email needs to be merged into your overall marketing strategy
Email marketing must be a part of your total marketing strategy. It can't be a project that's handled on the side. You need to take a holistic view of marketing. Email is a key piece of an overall marketing method and strategy.
What your boss wants to know
How much is this going to cost?
Email marketing doesn't have to be expensive. Many service providers have email plans that start around $20 per month.
Who's going to manage this?
If you are reading this then you are most likely the champion of your email marketing. But it is critical to identify the person or department that will be managing the campaigns. If this is not you, your boss will obviously need to know who it is.
How much time will it take?
Every business is different. Ultimately, your customers will tell you how often they want to receive information from you. I've found that in the businesses I've worked with, most send an email about once a week.
To break that down for your boss, someone will need to outline the content and call to action, write up the email, have it approved and then schedule it to be sent. This takes time but it's far less consuming than printing a postcard and mailing to several thousand people.
When will your boss see results?
This is the most exciting part of email. As your business develops a responsive list (one that knows, likes and trusts you) your job actually gets easier. The response you get from readers goes up as your list grows and you provide them with information.
How to get your boss to focus on email
Show her the numbers
Email is widely used and preferred by your customers. Here are some of the numbers
Over 90% of internet users between age 18 and 72 and 74% of internet users age 64 and older send and receive email, making it the most popular online activity for all age groups. ?- Pew Internet and American Life Project, 2009
Email has the highest ROI (return on investment) for all online media. For every dollar spent on email marketing, marketers can expect an estimated $45.06 ROI. ?–DMA, 2008
An eMail Data Source 2007 research study found that:
88% of adults have personal email accounts
46% of adults have work email accounts
147 million Americans use email every day (Juniper Research)
Assure your boss you aren't here to change the world
It may be a stretch to get your boss to agree to scrap all your traditional marketing channels and solely focus on email marketing… but that's not what you are trying to do anyway. The goal is to use email to augment the current marketing systems you are using. Then over time, rely more and more on email and faze out your expensive print advertising and mailings.
Do a small test
Testing is great. It can show your boss and other staff the possibilities of email marketing. Start by placing all your current customers on an email list. Use one of our recommended providers. Send them a simple email giving away something of value for free. Watch and see how people respond. Use your email provider to track the results and report back to your boss.
Show some examples from successful companies
It is also a good idea to show samples of other companies and businesses that are using email marketing. Subscribe to these businesses and study how they are using email to drive customers to take action. Share your findings with your boss.
Today's 10 Minute Exercise: Find and use some friendly competition
Find three email newsletters in your industry and subscribe to them. Notice what they do in their emails. Show your boss some of the emails from your most fierce competitor. There is power in competition. Use this to your advantage.
Now go take action.
.
Joel Mark Witt is the Publisher of Folk Media and author of 21 Days To Twitter Leadership and How To Use Social Media To Find A Better Job. He is a producer, author, and speaker who consults with businesses and nonprofits on how to use social media in marketing and communications. Get more from Joel on Twitter or Google Buzz.
.

*Photo By Mzelle Biscotte
Tags: boss, Email, executives, how to, Joel Mark Witt