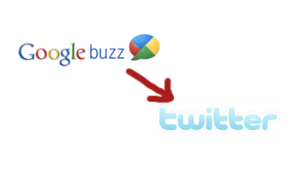 The biggest problem I'm having with Google Buzz is the inability to update Twitter or other applications. Right now, Google has only made it easy to import Twitter feeds INTO Buzz. There is no way to export Buzz feeds OUT to Twitter.
Until now….
Here are two simple steps to take to import your Google Buzz updates into Twitter.
Step 1: Get your Google Buzz Feed
Google has created a simple API that you can grab your Buzz posts and import into Twitter. Thanks to Shashi Bellamkonda (@shashib) over at Network Solutions for cluing me into this. Simply use the following feed and replace the red text with your actual username .
http://buzz.googleapis.com/feeds/YourBuzzUsername/public/posted
For example my buzz feed is: http://buzz.googleapis.com/feeds/joelwitt/public/posted
Step 2: Use Hootsuite to import your feed and update your Twitter stream automatically
Set up a free Hootsuite.com account and click on RSS/Atom Feeds. You will then be able to import your Buzz feed and have Hootsuite automatically post them to Twitter. You can set the frequency and amount of posts to go out to Twitter in the feed settings.
Two things I want to mention about this.
First, it takes some time for Hootsuite to pull down your Buzz posts and send them to Twitter. If you want to update Twitter in real time – don't rely on Buzz. But it might be useful to have Buzz posts go to Twitter in addition to your regular tweets.
Second, your tweets will say "Buzz by YOUR NAME from Buzz" and then a link to the actual Buzz post. So it isn't easy for Twitter followers to see your actual message. They have to click on a link to see it.
My hope is that Google will update Buzz to allow us to post to Twitter, Friendfeed and other services directly.
What are your thoughts on all this?
Follow Folk Media on Google Buzz
.
Joel Mark Witt is the Publisher of Folk Media and author of 21 Days To Twitter Leadership and How To Use Social Media To Find A Better Job. He is a producer, author, and speaker who consults with businesses and nonprofits on how to use social media in marketing and communications. Get more from Joel on Twitter or Google Buzz.
.

Tags: API, Google Buzz, hootsuite, RSS, Twitter