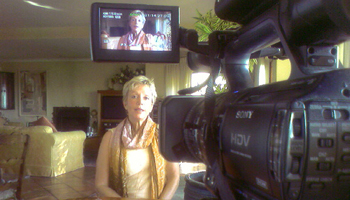 Using YouTube to get traffic to your website is one of the best ways to try out multimedia skills and to reach a new audience. YouTube videos allow you to become "real" to your audience in a way that you aren't just when they are simply reading your words.
To make the most of the YouTube video, you will need to make sure that you select the title and keywords properly; use the screen properly; provide legitimate information; and produce a network of videos, you should begin to see a traffic spike from your YouTube account to your website.
Title and Keywords
YouTube's search uses keywords just as search engines do. While it may be tempting to name your video something catchy or clever, make sure that you add the most relevant keywords. A video about "cooking gluten-free food" should have that phrase in the title. When you choose keywords, try to imagine what people will search for that would be in your video. Making sure that the people watching your video are the intended audience is necessary to use this method of traffic generation.
Screen Use
Some people who make YouTube videos for their sites are blatant about the sales pitch. Don't be one of those video producers. Putting your URL or company name at the bottom of the screen or putting your name and title under your photo will give you a marketing boost without intruding on the viewing. Use the 10 seconds after the video ends asking viewers to go to your site, like you on Facebook, or do something else quick and easy as a follow-up.
Quality Information
Videos on YouTube should be no longer than 10 minutes. Though the site currently allows users to post videos that are longer, you generally should avoid it. Most people who are browsing videos online are looking for something short and sweet. They want quick information. Get to the point of the video quickly and then end it; drawing it out only means that people will click another video before you are done.
Give viewers solid information but leave them with enough questions that they want to seek you out. The best way to accomplish this task is to have each video address a small question. For the aforementioned "cooking gluten-free food" video, address a simple question. Explaining what gluten is, the affects of eating gluten on people with celiac, or what gluten-free breads are best allow you to answer the needs of the viewer but leave them wanting to know more.
Video Network
Providing a 2-minute video on youth soccer drills can provide a bit of helpful information. A viewer will watch your video, consider the drill you recommend, and move on to other videos. With 10 or 15 videos of soccer drills, though, you begin to build a reputation as someone who knows a significant amount about youth soccer. As people watch more of your videos, they begin to trust what you have to say. Though a member page, you can begin to get subscribers and encourage people to visit your website.
.

Heather Green is a freelance writer for several regional magazines in North Carolina as well as a resident blogger for onlinenursingdegrees.org. Her writing experience includes fashion, business, health, agriculture and a wide range of other topics. Heather has just completed research on online schools for nursing and online nursing schools.

*Photo by Frerieke
Tags: Heather Green, Traffic, Video, Youtube