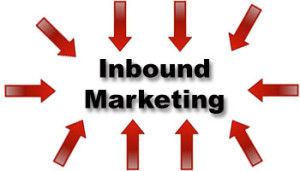 Inbound marketing can make a big difference in your business and sales. It's the difference between having to pick up the phone and make sales calls and having your prospects and customers CALL YOU.
The goal when marketing your business is not to get your business name "out there," it's to get your customer's name "in here." This is called inbound marketing.
Inbound marketing vs. outbound marketing
Traditional marketing is sometimes referred to as "interruption marketing." You literally interrupt people with your message.
Imagine this scenario…
You're at a cookout talking with some friends, flipping burgers and chatting away. A new neighbor comes up to you and starts pitching you on a spatula his business sells. He demonstrates how superior his product when grilling burgers. And it's true.
But he just jumps right into the middle of the conversation and begins to INTERRUPT you with his message.
You're peeved right? How dare he start in like that.
Now consider this scenario…
You're tasked with grilling for your cookout. You head to the local grocery store looking for charcoal, matches and hamburgers. On your way down the charcoal isle you strike up a conversation with the exact same neighbor. He finds out that you are grilling today and recommends his spatula. You get excited at all the benefits and order one from his website later that night.
The first scenario is an example of interruption marketing. You already know this style very well. Every TV show, radio channel and freeway billboard uses this method of advertising. They literally interrupt to force feed you advertisements.
Inbound marketing turns traditional interruption advertising on it's head
In the new economy, smart marketers and small business owners need to find better ways to reach people. Inbound marketing offers an excellent solution. Interruption marketing is like hunting, while inbound marketing is more like fishing.
"Fishing" with a wide content net
If we continue with the fishing metaphor, you need to find a "hook" to get your audience to bite. We saw the hook approach in the second scenario above. You were already buying related products for grilling and along came your neighbor with some INFORMATION that showed you a better way to cook burgers. You got excited and ordered the product that night.
But to push the metaphor even further, he was only using a hook. It was a on-to-one marketing process and would not scale well for your business. Instead we should really be fishing with a large net. We will snag more prospects this way.
What is the marketing equivalent of a large net?
Online content.
Inbound marketing relies on an Internet content net to draw in prospects and customers. Content is what makes the Internet tick. The major online sites like Facebook, Twitter and Google use content to fuel their sites.
We also see the need for content on portable devices. With the recent uptick in sales of the iPhone and iPad – there is a vacuum for mass amounts of quality video, audio, text and photos to share on these devices.
As a small business owner, you already have the tools to reach people who are already actively searching for content online. For the cost of a laptop you can begin creating a publishing operation for your small business that rivals your local newspaper.
How to use inbound marketing to get customers to call you
First, start publishing now. Become a consistent publishing source of value and information. There are thousands of opportunities for you to add value to your prospects via video, audio or text. Start using the tools available and start now.
Second, give away massive value. Look for ways to improve the lives of your prospects and customers. Use your publishing platform to INVEST in them. This is critical to attracting prospects to your business.
Finally, speak to people's emotions. Don't think, write or act logically. Instead focus on the emotions of your prospects. It's important to stir up their emotional brain and get them excited about doing business with you.
Think about how powerful inbound marketing can be
What if you could turn your marketing on it's head and get customers and prospects to call you? How would that impact your bottom line? Would you sleep better at night?
That's exactly what you can do when you start using inbound marketing. You cast a wide content net and begin attracting customers without picking up the phone to make a sales call.
Today's Action Step
Set up a blog for your business. You need a place to publish … a home base. Your blog is the first step to turning your business into a publishing force. I recommend you use WordPress as a platform. Stay tuned for more…
Now go take action.
This article is part of the Internet Marketing Basics series where we cover the fundamentals of internet marketing and social media.

.
Joel Mark Witt is the Publisher of Folk Media and author of 21 Days To Twitter Leadership. He is a producer, author, speaker and social media marketing coach who consults with businesses and nonprofits on how to use social media in marketing and communications. Get more from Joel on Twitter or Google Buzz.
Tags: inbound marketing, Internet Marketing Basics, Joel Mark Witt, social media marketing