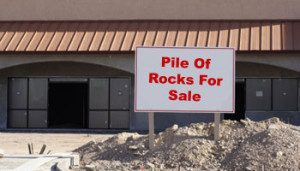 I learned a simple three question test from my mentor Eben Pagan when choosing an internet business niche. It was so simple and straightforward – yet so powerful at the same time.
Before I give you the "secret sauce" … a story…
When I was a kid I decided to set up a "store" in my front yard at my house. I've always had the entrepreneur gene in my blood and I wanted to make a little extra money. You'd think I would have noticed the hot summer day outside and decided to sell lemonade. No – despite my mother's urging otherwise – I decided to sell what I thought people wanted to buy.
I went int the driveway and scooped up a few bucket fulls of gravel. My mother reluctantly helped to put up a card table in the front yard and I carefully displayed my rocks on the table along side a small "rocks for sale" sign.
I didn't make one sale all day.
In the late afternoon I was so discouraged. I couldn't understand why I didn't have customers. Luckily my father pulled up on his way home from work and bought some rocks from my little store. My little six-year-old entrepreneur spirit wasn't crushed after all.
About a month later I noticed some neighbor kids had set up a lemonade stand across the street and they were raking in the money. I was peeved that they were getting all this business and I didn't. But I learned a VERY important lesson…
You will make money in business to the degree that you solve people's immediate perceived problems.
It wasn't that the rocks weren't valuable – my dad probably paid several hundred dollars for that gravel to be installed in our driveway. But rocks weren't valuable to the people driving past my house that hot summer day.
Before you laugh at this little story let me ask you… are you selling rocks in your business?
Choosing what to sell and who to sell it to
Eben Pagan came up with an excellent system that involves three questions to find out if a business, product or service idea is valid. It is a great way to determine if there is a market that will buy what you are selling.
Here are the three magic questions:
Question 1 – Is my prospect experiencing pain and urgency or an irrational passion?
People only want to spend money when they want to relive pain. Here are some great examples of "pain" points.
"How can I make more money?"
"How can I get out of debt?"
"How can I get rid of this extra fat?"
"I want to get more dates with the opposite sex."
"My spouse has separated from me – how can I get back together with him."
Question 2 – Is my prospect proactively looking for a solution?
It is far easier to sell to people who are looking for a solution than to find people and convince them they need a solution. Figure out what customers are already searching for online by doing some keyword research, surveys and investigation.
Question 3 – Does my prospect have few or no perceived options?
The less options that your prospect has the better. In fact if you can create a new category and become the first player in that space, even better. Steve Jobs did this when he created the iPhone. He took the concept of a smart phone and made it better. With no other touchscreen options for phones in 2007, Apple computer dominated the market.
Today's Action Step
Choose an idea, run it through the three question test and see if you get three yeses. If you do then you have a very strong internet business niche that you owe to yourself and business to try.
Now go take action.
This article is part of the Internet Marketing Basics series where we cover the fundamentals of internet marketing and social media.
.
Joel Mark Witt is the Publisher of Folk Media and author of 21 Days To Twitter Leadership. He is a producer, author, speaker and social media marketing coach who consults with businesses and nonprofits on how to use social media in marketing and communications. Get more from Joel on Twitter or Google Buzz.
Tags: choosing your niche, Eben Pagan, Internet Marketing Basics, Joel Mark Witt