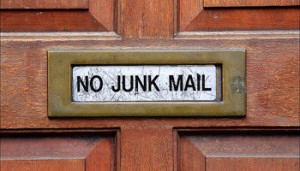 Junk mail is everywhere. I actually call it junk marketing. It really has nothing to do with the product being bad. Most people don't know the difference between their bottom and a bullet hole when it comes to marketing.
Here are some things you can learn from junk mail and what NOT to do.
.
Joel Mark Witt is the Publisher of Folk Media and author of 21 Days To Twitter Leadership. He is a producer, author, and speaker who consults with businesses and nonprofits on how to use social media in marketing and communications. Get more from Joel on Twitter or Google Buzz.
*Photo by loop_oh
Tags: direct mail, direct marketing, internet marketing, Joel Mark Witt, Video