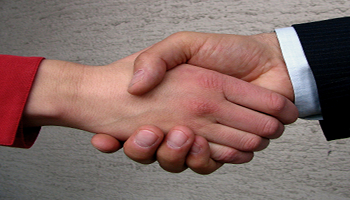 Social media is become an integrated facet of many business marketing strategies.  Companies like Comcast and CareOne have dedicated social media teams that have their own budget, employees, and resources.  Social media marketing and customer service is the wave of the future and I know you're excited to get it launched for your company.  But your boss isn't.
It can be tough convincing your manager or president to sign off on a seemingly skeptical plan of action.  In a world where measurement and success are still undetermined, a social media plan may not be in the budget for this coming fiscal year.  Although you're being met with opposition, there are a few things you can do to negotiate with your boss about implementing a great social media campaign.
1. Hear them out.
When you're convinced that something will work (like you are with your social media marketing plan), it can be difficult to hear out the other side.  You've heard their argument before and you don't want to hear it again.  You just want them to approve your plan!
Control your urges and take a step back and hear them out.  Everyone, no matter your position or lifestyle, wants to be heard.  It's one of the best compliments you can give to someone.  Also, if you listen to their reasoning, the chances are good that they'll listen you when it's your turn.
2. Understand where they're coming from.
After you listen to your boss, ask question to understand him or her in a better manner.  This will not only show that you were listening but it will help you understand the root of their argument.  Are they afraid of change?  Have they been burnt by new proposals before?  You won't find out their reasoning if you don't ask.
When you're digging deeper, make sure that you ask questions beginning with "what," "how," and "why."  These key words will make your questions more efficient and focused.
3. Present your plan from an objective point of view.
Once again, it would be easy to tell your boss why you want to implement a social media campaign.  Well, your boss doesn't want to hear about you.  He or she has heard about your reasoning three times in the past and he's rejected your ideas just as many times.  Your boss wants to hear the facts – straight.
Present your ideas from an outsider's perspective.  Do not lace your sentences with "I think" or "I know."  Give your boss objective facts or standards to prove you're plan is worth it.  Consider the used car salesman.  He won't change his offer because you tell him that you can't afford it with three kids and a pregnant wife.  He might reconsider if you tell him that his price is $3,000 over the Kelly Blue Book value.
Be objective.  It'll get you further.
4. Be creative and fair in your final proposal.
Once you have reached the point of laying out plans and processes, make sure that you play the give and take game.  Your boss may not just open his arms to your proposal.  That's the reason you're negotiating in the first place, isn't it?  Make sure you accommodate some of his or her needs as your sifting through.  Instead of a trial period of six months, make it three months.  Instead of two full-time positions, go solo and see what you can do.  Develop a social media plan that works for everyone, not just you.
This article only scratches the surface when it comes to negotiating a social media plan.  If your company doesn't have a social media campaign in place right now, begin developing one today and work on it periodically over the next few weeks.  When you've got a few ideas, run them by your boss and see where it goes.  You won't know what's possible until you try so give it a whirl.
If you'd like more advice on negotiation, I suggest picking up a copy of Getting to Yes by Roger Fisher and William L Ury.  The book offers some practical advice that is applicable in the biggest and smallest of negotiations.

.


Eric Alpin is the Associate Editor of Folk Media and works for a telecommunications company in Baltimore, Md. He is a social media enthusiast, blogger, writer, and student with a passion for leadership and self-development strategies and techniques. Find out more about Eric on Twitter.



*Photo by acerin
Tags: compromise, listening, negotiating, negotiation, Social Media 101, social media campaign